Chocolate and Beetroot Endometriosis Muffins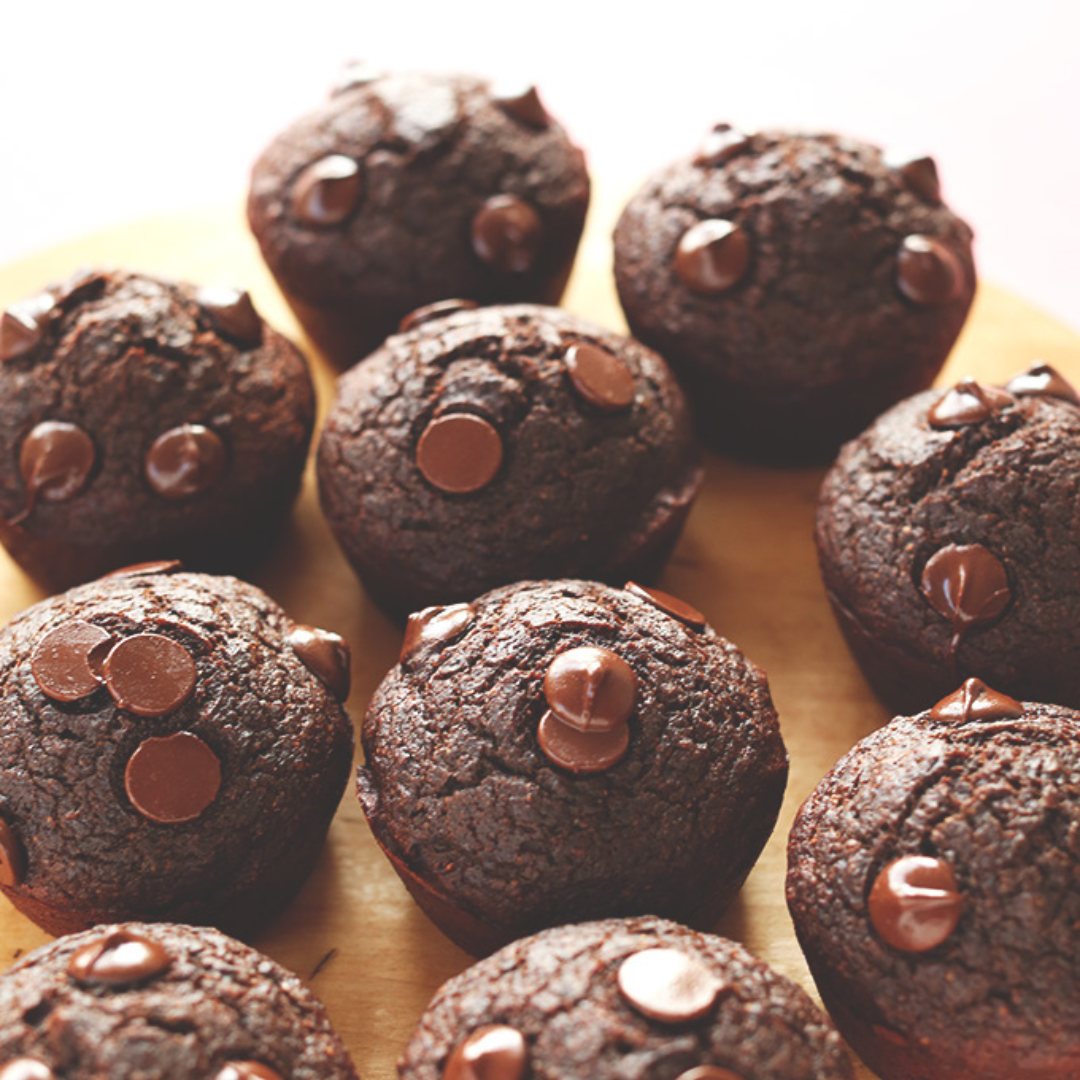 These healthy chocolate chip muffins are packed with ingredients that can help to support the symptoms of endometriosis. They are high in essential fatty acids and antioxidants, to help fight inflammation, but they also taste delicious, squidgy and chocolatey. 
They are great for an afternoon treat, or a grab and go breakfast, and are perfect with a cup of our Over The Moon tea.
Ingredients
15g flax seeds
75ml water 
200g beetroot puree*
60ml maple syrup or honey
70g brown sugar
1/4 tsp sea salt
1 1/2tsp baking powder
60ml melted coconut oil or vegetable oil
60ml almond milk
50g cocoa powder
200g whole-wheat flour (or white flour)
60g dark chocolate chips (plus more for topping)
*You can buy ready cooked beetroot for this recipe and blend it,  just make sure that you buy beetroot that isn't packed in vinegar*
Method
Preheat the oven to 190 degrees, and line 12 hole muffin tray

Mix the flax seed and water and let it rest for 5 minutes.

Add the beetroot puree, melted oil, maple syrup (or honey), brown sugar, baking powder, salt, and whisk.

Stir in the almond milk and whisk once more.

Add cocoa powder, flour and stir until just combined, being careful not to over-mix. 

(*If the batter appears too thick, add a touch more almond milk. But it should be quite thick and be scoopable rather than pourable)

Lastly, stir in chocolate chips. 

Divide batter evenly between muffin tins (should be enough for between 11-12 muffins) and sprinkle with a few more chocolate chips.

Bake for 17-22 minutes 

Let cool for a few minutes, then remove from the tray and cool fully on a cooling rack.

Will keep covered for several days in an airtight container, and freeze for up to one month.
Foods that can help to support the symptoms of Endometriosis:
Fibrous foods - such as fruits, vegetables, legumes, and whole grains
Iron-rich foods - such as dark leafy greens, broccoli, beans, fortified grains, nuts, and seeds
Foods rich in essential fatty acids - such as salmon, sardines, herring, trout, walnuts, chia, and flax seeds
Antioxidant-rich foods - found in colorful fruits and vegetables, such as oranges, berries, dark chocolate, spinach, and beets
Our Over The Moon Tea contains select herbs that have been used traditionally for millennia to soothe cramps, swollen tummies, bring calm and relaxation and support a regular cycle. Their natural benefits come with delicious flavours, to create a hug in a mug.
We've selected whole leaves and flowers, to blend a soothing cuppa. With whole leaf raspberry leaf, chamomile flowers, ginkgo, spearmint, dandelion root and rose petals. Each targeted to support your body, and offer you support when you need it.
Teas to support your monthly cycle