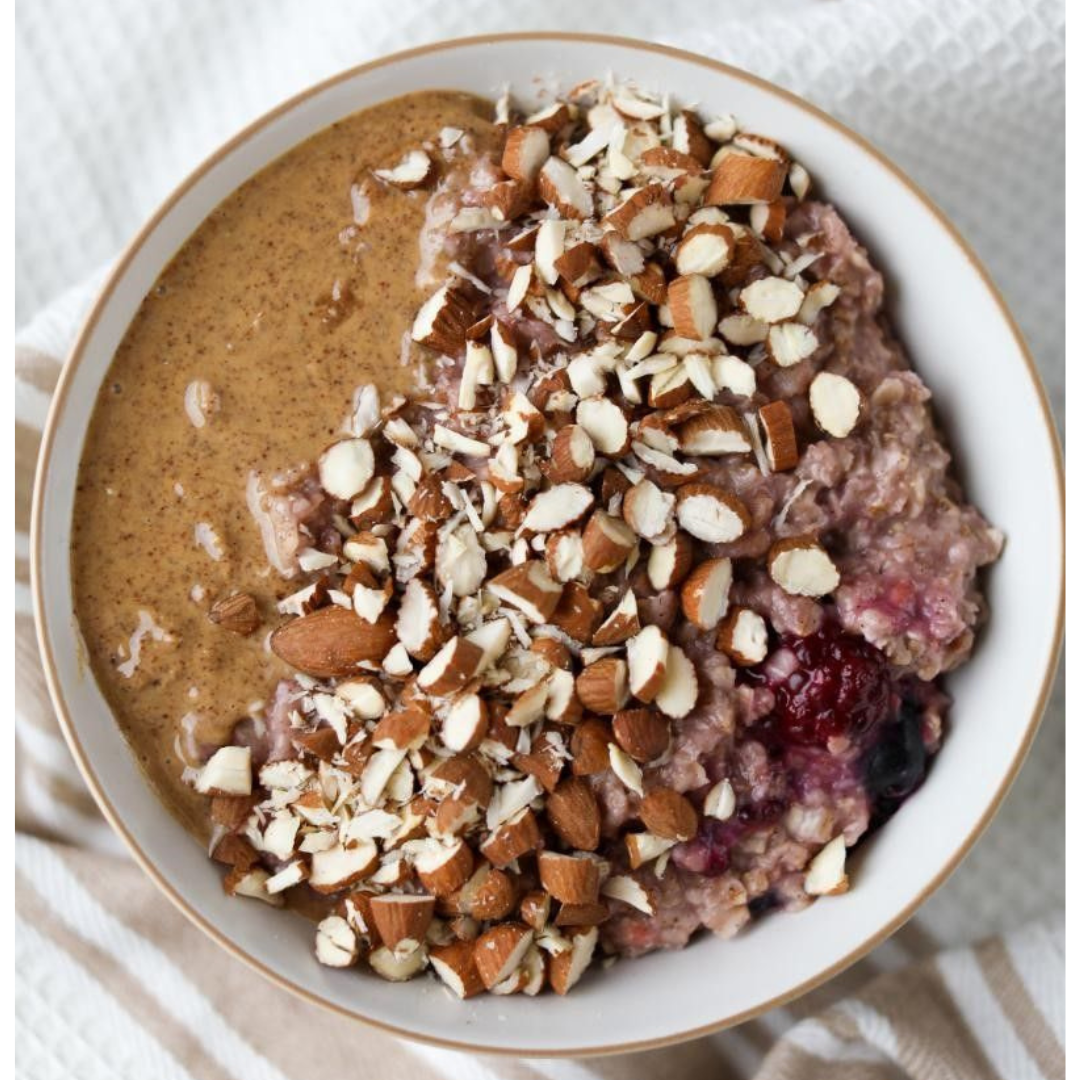 During Menopause eating the right meal in the morning can set you up with the energy that will keep you going throughout the day. Especially, if you're extra busy!
Porridge is a perfect meal for that, because you can control what you add to it, to make it fit your tastes, and give you the nutrition you need. 
Our recipe for Berry & Almond Porridge has been created to enjoy both hot or cold. So if you are suffering from hot flushes you can make this the night before and enjoy it chilled in the morning.
Ingredients (serves 2)
1 cup rolled oats
1 cup whole milk (or preferred plant based)
1 cup of water
1 cup rolled oats
a pinch of salt
½ tsp ground cinnamon
2 tsp honey (or to taste)
1 large handful of raspberries, blackberries, and blueberries
Toppings
2 tbsp almond butter
Handful of almonds (chopped)
A few raspberries, blackberries, and blueberries
(*you can substitute for your preferred nuts, or nut butter)

Method
1) Add all of the ingredients (except the toppings) into a saucepan.
2) Heat on a medium-high heat and give it a good stir, until just bubbling, then turn down to a simmer.
3) Cook for 4 - 5 minutes until the porridge is your desired consistency. Add more milk or water if you like a looser consistency.
*If you want to enjoy the porridge cold, transfer to a bowl at this stage, and cool. Store in the fridge overnight, and then top with the additional toppings the next morning.
To enjoy hot - top up with suggested toppings and enjoy! Great with a cup of our Take a Pause Menopause Tea, which you can also enjoy both hot or chilled!
Benefits
Oats - Whole grains are an excellent source of heart-healthy soluble fibre, plant protein, and some B vitamins responsible for energy and metabolism regulation. Menopausal women are advised to increase their protein intake to maintain bone density and improve muscle mass.
Berries - dark berries have been shown to reduce blood pressure in menopausal women. They are also high in vitamin-c and boron which is important for maintaining bone density.
Nuts - studies have shown that omega rich foods such as nuts and seeds can decrease the frequency of hot flushes and the severity of night sweats. They contain essential fatty acids, and give you vital nutrients to help support your nervous system, keep your skin supple and help with mood.