Ask the Expert - Pregnancy sickness symptoms and support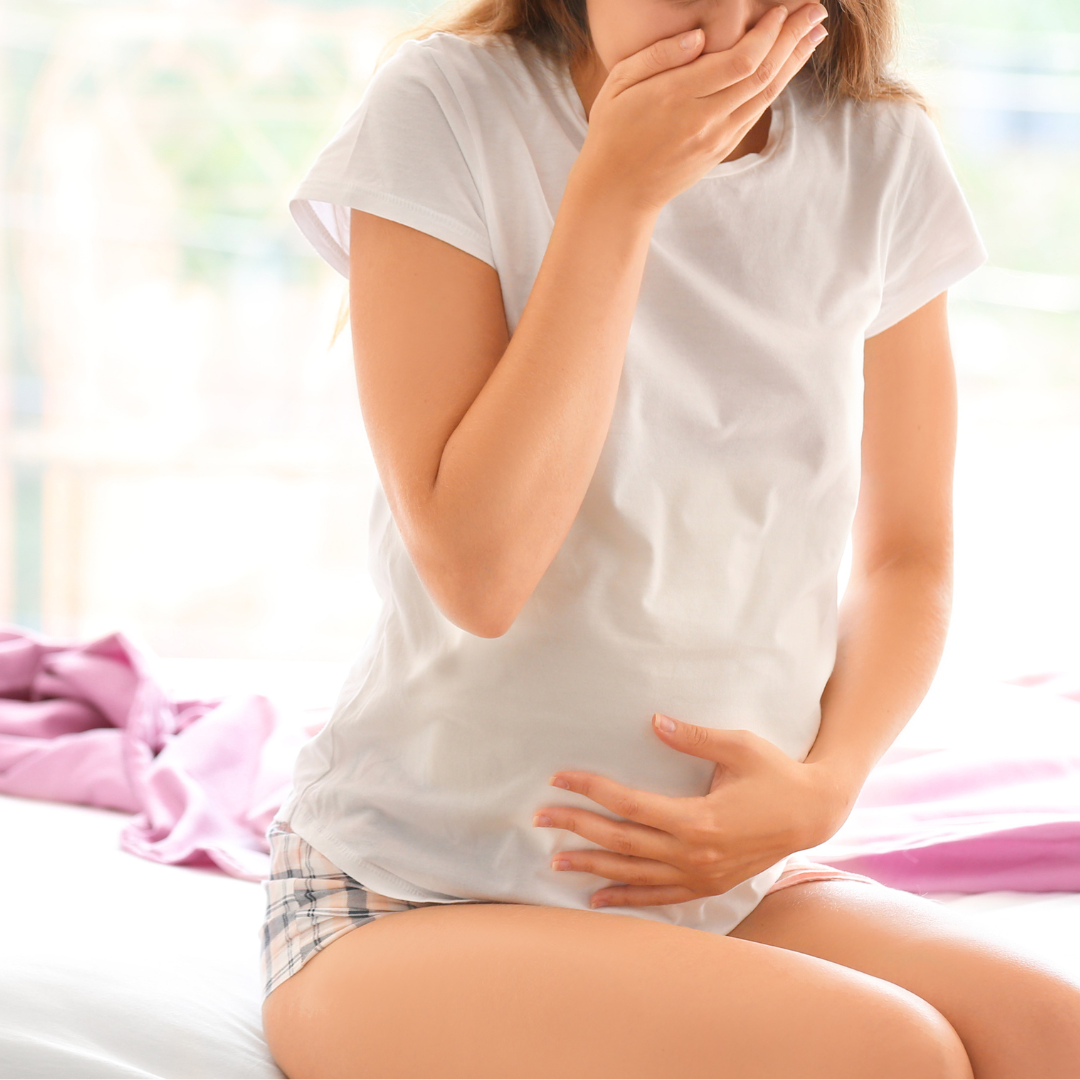 This blog post was written by our pregnancy sickness expert Megan Rossiter (Cert HE Midwifery, KGHDip Hypnobirthing) founder of birth-ed, providing award winning Hypnobirthing and Antenatal courses, to empower women to make the right birth choices for them. 
'Morning Sickness', the first big lie of motherhood.. because let's face it, it could quite easily be called 'afternoon sickness', 'evening sickness', 'middle of the night sickness' or 'all-day-long-this-cant-seriously-be-normal sickness'*. Whatever you call it, it's a difficult reality faced by around 80% of women at the beginning of their pregnancies. 
Pregnancy sickness is a spectrum condition. Knowing where on the spectrum you sit can help you work out the best things to try to make these next few weeks a little easier.
Mild Pregnancy Sickness Symptoms
Low level nausea or occasional vomiting that doesn't interfere too much with day to day life.

Periods of relief during the day/night

Usually managed with diet or lifestyle changes

Little-no negative physical or mental impact
Moderate to Severe Pregnancy Sickness Symptoms
May last longer than the 'expected' 12 weeks

Impacting food and fluid intake

May have more extended periods of nausea/vomiting

Possibly some weight loss

May experience excessive saliva

May be affecting mood/mental health

May need treatment with anti-emetic medication
How to manage mild-moderate pregnancy sickness
Most mild-moderate pregnancy sickness can be managed with some diet and lifestyle changes. Hopefully some of these ideas are helpful for you!
Morning Rescue Tea from HotTea Mama.

Blending ginger, lemon and mint- all supportive in reducing mild-moderate symptoms of nausea & sickness. If you're struggling with warm drinks, you can chill it and add ice! Or even freeze in a lolly mould and have as a lolly. All great ways to stay hydrated.

Eat little, often and whatever you fancy!

Keep a little snack box by the bed for late night munchies or to relieve early morning nausea. It's not uncommon to find you can only stomach starchy/salty/sweet food at this stage. 

Rest.

Time off work for pregnancy related illness is protected in law, so take the day/week/month off or request to work from home or have adaptations made to make your working day easier.

Acupressure/Travel Sickness bands.

Acupressure on the P6 point (3 finger widths up from your wrist) has been shown to reduce low level nausea.

Fresh air, cool showers, cold flannel,

keeping cool can reduce nausea, harder if you're reading this in summer (sorry!)

1st line anti-emetic medication

prescribed by your GP may be enough to enable to you to continue functioning close to 'normally' for the next few weeks.
'Umm, I'm not sure that's going to cut it?'
*If you're chosen description was 'all-day-long-this-cant-seriously-be-normal sickness', you might be very accurate. Around 2-3% of women will experience Hyperemesis Gravidarum (HG), loosely translated from Greek to mean 'too much sickness of pregnancy' (or as I would describe it, 'all-day-long-this-cant-seriously-be-normal sickness'). 
How do you know when 'too much' is 'too much'? And what can you do about it?
Hyperemesis Gravidarum Symptoms
Nausea and/or vomiting interfering severely with your day to day life

Weight loss

Big impact on food and fluid intake

May continue well beyond 12 weeks, even throughout pregnancy

Experiencing clinical dehydration

May experience excess saliva

Severe weight loss

Severe psychological impact

Requires medical management

Can lead to further complications if not well managed.
How to manage Severe Pregnancy Sickness and Hyperemesis Gravidarum 
If your nausea or sickness has reached the levels described above, it is unlikely that the ideas shared earlier will do much else than make you want you to throw your phone/computer at the wall (I know, I've been there), so it is important to seek medical advice. 
Start by contacting your GP, who may be able to prescribe some first line medication options and assess you for any signs of dehydration. They may refer you to or you may have open access to your local Early Pregnancy Unit (EPU), where you can be seen by a specialist team, be offered stronger medication and given rehydration therapy if needed. If there is no local EPU or it is 'out of hours' you may be referred to A&E. There are many safe medical treatment options available for you to try. Some people will require in patient care to manage their HG symptoms. 
If you are unsure where to turn, struggling to access treatment, concerned about the safety of medication or need emotional support, the charity Pregnancy Sickness Support can help with all of this!
Who am I to chat to you about pregnancy sickness?
I'm Megan, I've got 2 boys (now 2 and 7), and I sadly sat at the very extreme end of HG in both pregnancies. I'm also an antenatal teacher and founder of Birth-ed, so I spend my days supporting women navigating this journey from pregnancy to parenthood. So alongside knowing pretty much every research study done into HG and Pregnancy Sickness by heart, I've really been there. I've tried absolutely every kind of intervention from acupuncture to prescription steroids, I've felt the debilitating nature of the relentless nausea, I've felt the despair of endless weeks in a hospital bed, I've got the holes in my teeth and aversions to all kinds of strange smells/sounds/foods/places to show for it. So if you've found this article searching the internet in desperation, I get it. It's so tough when you're in it, whether it's the frustrating nausea stopping you working/parenting at your best or you're laid in a hospital bed wondering if it will ever end? It will. Whilst I'll never manage to face it again, I look at my 2 boys and remember I overcame it all. And you will too, deep breaths, keep going.