Healthy quick chocolate energy ball recipe for busy Mamas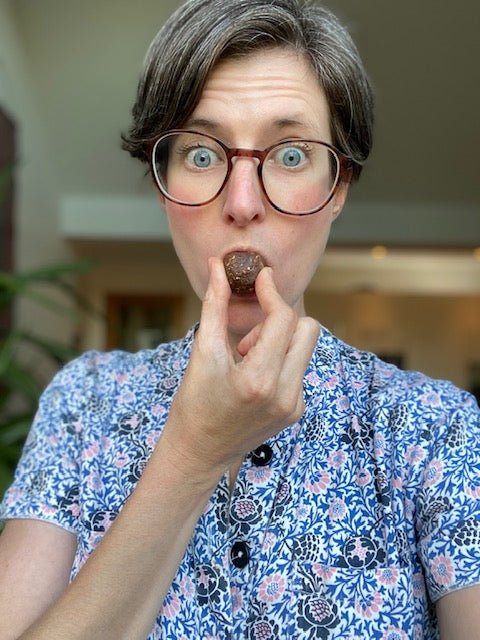 Cocoa peanut butter balls
These chocolate energy balls have a rich fudge-like texture because of the dates. You can change up the nut butter, and nuts to suit your preference. Or use tahini, and sesame/ pumpkin seeds if you have a nut allergy.
Ingredients:
6 Medjool dates pitted
45g peanuts
2 heaping tablespoons of peanut butter
1 1/2 tablespoons of oats
2 teaspoons of good quality cocoa powder
Method:
Place the dates in a food processor and pulse until they form a smooth paste
Add in the oats, nut butter, cocoa powder, and peanuts
Pulse again until they are really well combined
Take a tablespoon of the mixture and roll in to a ball
Continue doing this until you have used all of the mixture
Place the rolled balls in to the fridge to set for an hour, and store in an air tight container
Enjoy with a cup of your favourite HotTea Mama tea!
Balls with benefits...
General wellbeing
Oats and peanut butter are a  good source of slow release energy and protein 
Dates are naturally high in fibre and potassium to promote gut health. Enjoy with a cup of Get Up & Glow.
Pregnancy 
Dates - research suggests that pregnant women who eat dates every day 4 weeks before their due date had a shorter first stage of labour. Perfectly paired with a cup of The Final Push - Raspberry Leaf Tea.
4th Trimester 
Oats are a good source of glactagogues which encourage a healthy milk supply
Dates are packed with natural sugars which give a natural energy boost, and help fight fatigue. Ideal with a cup of Milk's Up Breastfeeding tea.