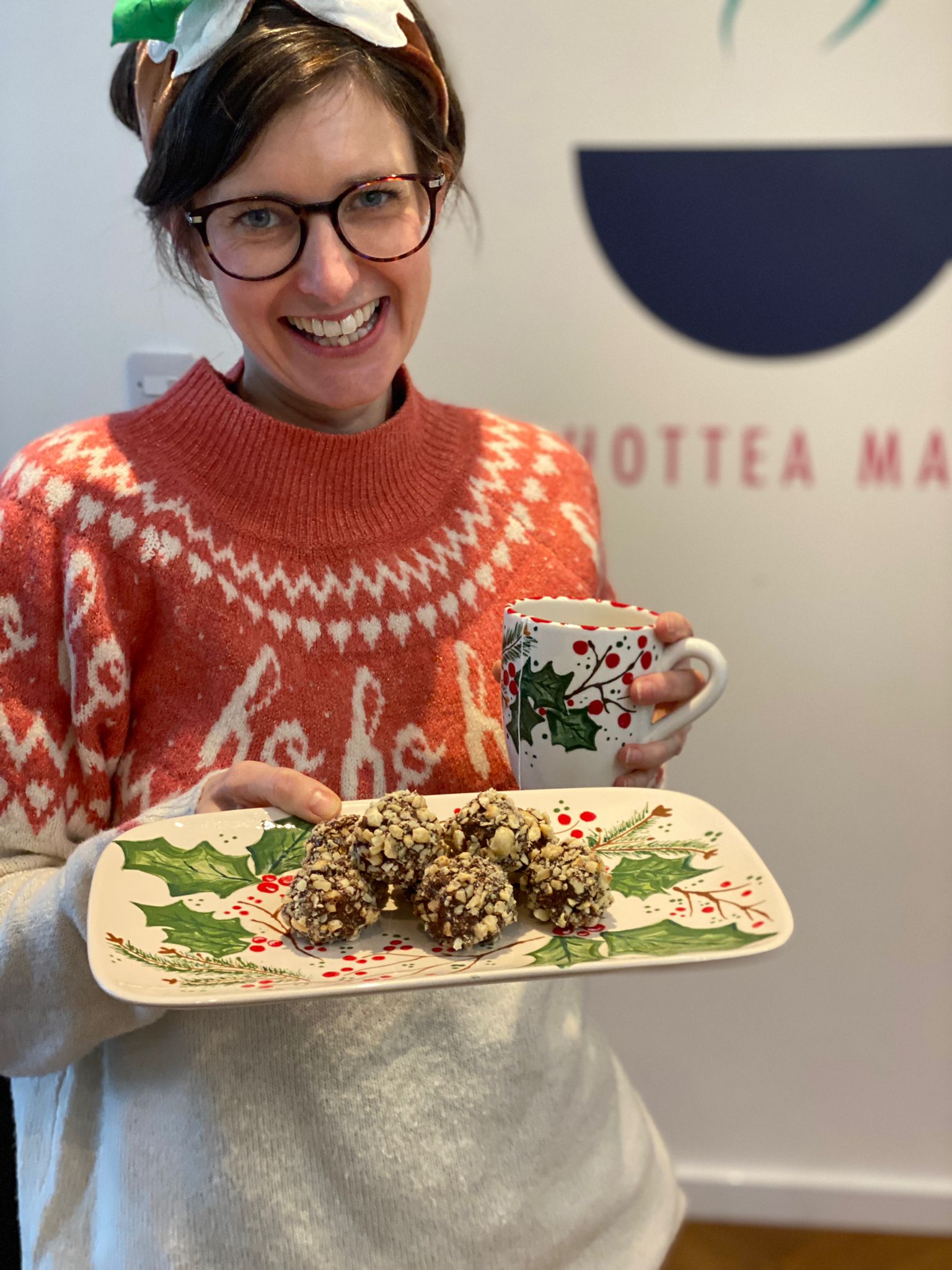 If you like Ferreo Roche you will love these 'healthier' Festive Balls.
They are chocolatey, nutty, and not too sweet, so can help curb any sugar cravings during that time of the month.(Or any day with a 'y' in it...) We love them with a cup of our Over The Moon Tea.
Ingredients
30g almond butter
1 1/2 tbsp maple Syrup
1 tbsp cocoa powder
50g ground almonds
1/2 tsp vanilla
6 whole hazelnuts
50g crushed hazelnuts
40g dark chocolate
Method
Mix the nut butter, vanilla, cocoa, and maple syrup until well combined

Stir in the ground almonds. (You might need to add extra if the mixture is too sticky)

Roll in to 9 - 10 small balls, placing a whole hazelnut in the centre, forming the dough around so it covers the hazelnut

Place the crushed hazelnuts on a small plate

Melt the chocolate 

Roll each ball in the melted chocolate, then roll in the crushed hazelnuts

Place on top of a plate lined with grease-proof paper

Pop in to the fridge for about an hour to set

Enjoy with a cup of our Over the Moon tea
*You can adapt the recipe to include your favourite nuts, we also enjoyed the roasted (unsalted) pistachios.
Crushed freeze dried raspberries are a delicious alternative to crushed hazelnuts/nuts to coat the balls too.


Our Over The Moon tea aims to naturally help and support your body with the challenges posed by mother nature.
Select herbs have been used traditionally for millennia to soothe cramps, swollen tummies, bring calm and relaxation and support a regular cycle. Their natural benefits come with delicious flavours, to create a hug in a mug.
We've selected whole leaves and flowers, to blend a soothing cuppa. With whole leaf raspberry leaf, chamomile flowers, ginkgo, spearmint, dandelion root and rose petals. Each targeted to support your body, and offer you support when you need it.