Quick Oaty Breakfast Cheesecake For Busy Mums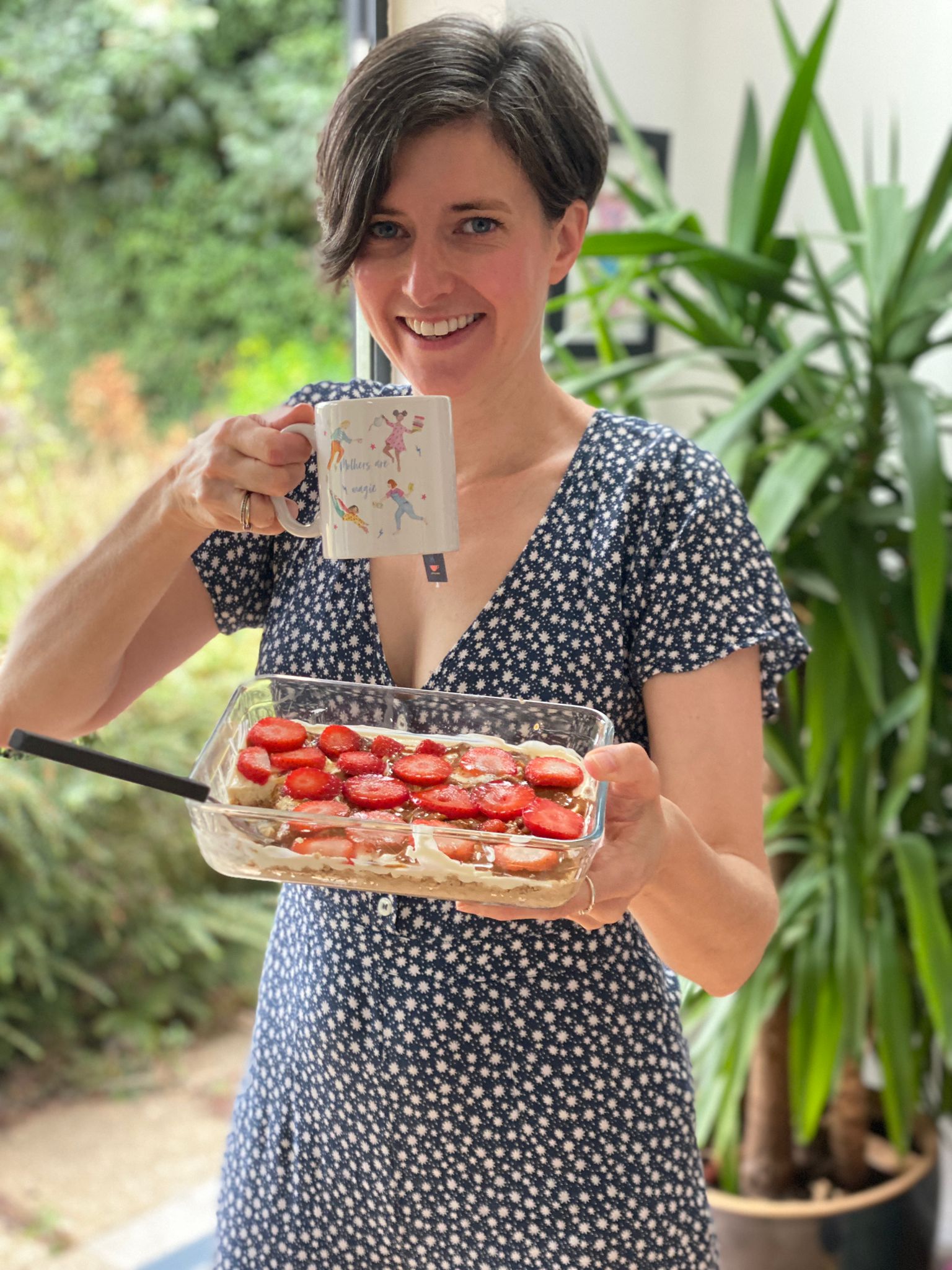 Overnight Oaty Breakfast Cheesecake
This is an ideal breakfast for a busy Mum, as you can prepare it the night before and it is ready to grab and go in the morning.
As the 'Cheesecake' in the name suggests, it tastes like you are having pudding for breakfast, but is substantial and nutritious. We would recommend enjoying it with a cup of our Milk's Up Breastfeeding Tea as many of the ingredients have links to naturally supporting nursing and milk supply.
Ingredients 
2 Oaty biscuits (You can also use standard Weetabix)
80ml Milk (Oat, Almond, Cows)
150g Thick Vanilla Greek/Skyr yoghurt
1 tsp (generous) Biscoff Spread
3-4 Strawberries sliced
Method
Crush two Oaty Biscuits in to a bowl or tupperware container
Pour over the milk, and mix to coat the crushed biscuits
Press the biscuits down with the back of a spoon to form the 'cheesecake' base
Top with the vanilla yoghurt
Melt the biscoff in the microwave for 10 - 20 seconds
Drizzle on top of the yoghurt, and top with strawberries
Put in the fridge for 4 hours/overnight to set
Enjoy the next morning at home, you could take it with you on a walk, or in the car. It is a great transportable breakfast that is delicious and will keep you going until lunch. 
Benefits
The oaty biscuits are a great source of galactagogues, which encourage a healthy milk supply. Oats are also a great source of slow release energy and protein.
Greek/Skyr Yoghurt is packed with protein which should keep you fuller for longer, and is essential for the production of breast milk. It will pass from you to your baby to nourish and support their growth. 
*Research suggests that women should try to increase their protein intake by 25g a day, to help with their post birth recovery, and to promote a healthy milk supply.
The variations are endless, think of your favourite dessert or cake, and go with those flavours… 
PBJ - Swirl some peanut butter through the yoghurt instead of Biscoff, and top with raspberries/drizzle of jam
Bakewell - add a teaspoon of ground almonds, or a few drops of almond extract, into the biscuit base. Crush some defrosted frozen cherries/or a swirl cherry jam into the yoghurt. Finished with a few flaked almonds.
Chocolate - Add a tsp of cocoa powder to the yoghurt, drizzle with melted chocolate and hazelnut spread, top with raspberries.
Tropical - Use a thick coconut yoghurt, top with chopped Mango, and a sprinkle of desiccated coconut
More of our delicious tea blends that support busy Mama's...