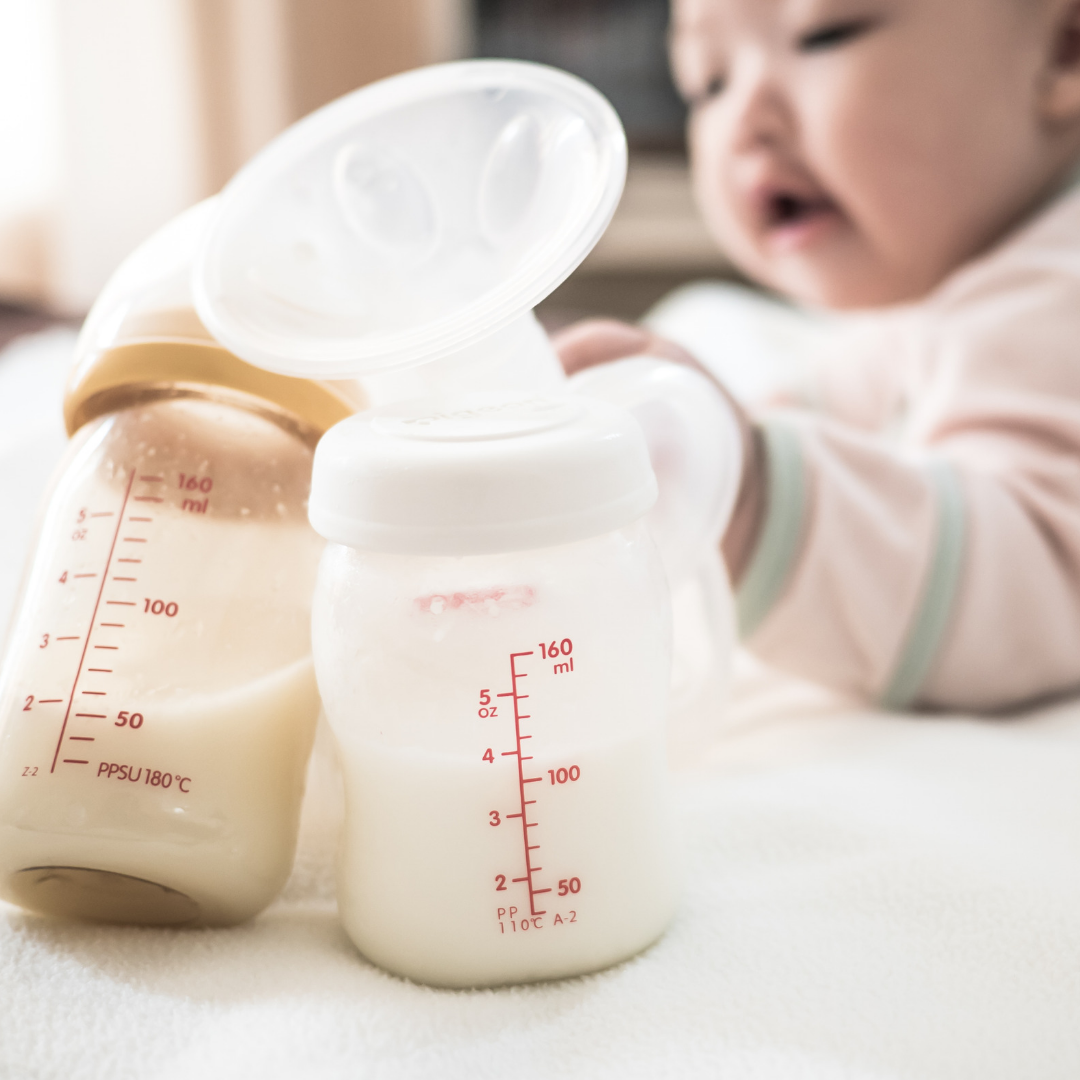 It's an area often overlooked in the UK in terms of antenatal education and support, but in the USA breast milk pumping is one of the most common ways of feeding babies in the first 6-12 months (largely due to returning to work early & limited/zero maternity pay). For many women breast pumping provides the benefits of breastfeeding for both mum and baby but without directly breastfeeding.
What are some of the benefits of breast milk pumping?
Firstly all of the health benefits of breast milk remain the same whether you are directly feeding at the breast OR giving breast milk in a bottle. The reduction in childhood cancers, asthma, obesity, allergies, transfer of immunity all remain the same for your baby and for you the reduction in breast and ovarian cancer, in reducing osteoporosis risk and in delaying periods (as long as you are pumping a minimum of 8-12 times in a 24 hour period) continue when you are pumping.
Breast milk pumping gives women more options of being able to feed their baby their milk: but without having to directly breastfeed. For some women the idea of breastfeeding directly does not appeal to them, for other mums they will be returning to work, have social events to attend and need to pump as will not be with their baby. Breast milk pumping enables partners to give bottles of milk too and 'share' the feeding load as such which suits some families. For women who really don't want to breastfeed in public (it is illegal to ask any woman in public to stop breastfeeding under the equality act 2010 so you can breastfeed anywhere) breast milk pumping provides options for them to feel comfortable feeding out and about.
In addition some women will be unable to breastfeed directly (for example a premature baby or cleft lip and/or palate) and breast milk pumping is literally lifesaving for these baby's. Breast milk pumping enables women to be able to provide this lifesaving medicine for these babies to help optimise their health whilst in a neonatal unit. Some women will also choose to donate their milk to milk banks which is where an electric pump will be likely to be needed.
What are the challenges with breast milk pumping?
The main challenge is maintaining a supply of milk. Breast pumps extract milk differently to a baby's mouth. Baby's lap, have different vibrations, rhythms and motions of sucking to stimulate milk let downs at varying times when milk flow slows. They look at you and make eye contact with you, you smell them and they are close to you and so for some women a breast pump will be challenging to extract any milk at all. For some women they find breast pumping works brilliantly. It is an individual thing and if you are breastfeeding directly and trying to pump too, your volume of milk pumped is not an indication of milk supply or what your baby needs.
If you are exclusively breast milk pumping aim for 8-12 expressions in a 24 hour period and check out my tips below. If you are pumping alongside direct breastfeeding then to prevent oversupply it is worth choosing and sticking to the same time each day to pump. Try to start hand expressing or breastfeeding within 1 hour from birth wherever possible, and don't leave more than 3 hours between feeds.
Most women in each pumping session will only get between 30-60 mls per breast. Again some women manage to get huge volumes from pumping but it is an individual thing. Our breasts aren't designed to hold hundreds of millilitres of milk at one time firstly because it works off supply and
demand: but also having a huge supply puts mum at risk of blocked ducts and mastitis, but can increase the 
chance of oversupply and lactose overload for baby which can cause fussiness and gassiness. Our breasts are only designed to produce what our babies need.
So if you are unable to pump more than 30-60mls at a time after day 5: You are not alone, and this is really normal.
Pumping takes more time, costs more than directly breastfeeding too, but will save money when compared to infant formula.
You will also need to consider giving your baby a vitamin D supplement when giving breast milk. You can buy drops to put into the baby's bottle.
How do I choose a breast pump? When do I buy?
Firstly you want to ask yourself these questions before buying a pump:
'What is my budget?'
'Am I planning on exclusively pumping/pumping daily?'
'Do I have time to be attached to wires and plug sockets: or do I need a hands free pump?'
'What bottles am I planning on using?'
'When do I plan on starting to pump?'
From this you can then decide which brand and what type. Having tried a few I recommend hospital grade pumps as a first choice if you are happy to be attached to wires.
You can rent breast pumps either from local authorities, the NHS, the NCT or baby rental companies too which can give you the option to try one before you commit to buying one to see if it's right for you. Lansinoh, Medela and MAM are my favourite wired electric pumps and the ELVIE pump has been amazing for hands free pumping. You can look at offers and baby weeks too to save more money if you are buying from new. Manual pumps and breast collection shells or silicone pumps are also cheaper ways of collecting or pumping milk too.
Tips for pumping more milk
Consider a hospital grade pump

 
Begin hand expressing in the antenatal period
Try and remain as relaxed as possible when pumping. Think calming programmes, comfort in terms of positioning, not being watched by others, having cushions to ensure you are comfortable
Have your baby close by and either touch (or if you are both directly breastfeeding and pumping then feed from one breast directly whilst pumping on the other side). Even just cuddling and smelling their head can help in stimulating more let downs.
If you are separated from your baby and pumping then look at photos of them, or have a blanket they have had that day and take that home with you and swap the blanket for something you have been wearing to leave behind for your baby
Warmth and breast massage help, so expressing straight after a bath/shower or using warm compresses or wheat bags/hot water bottles (not too hot) all can help.
Power pumping – 10 minutes pump, 10 minutes break, 10 minutes pump, 10 minutes break, 10 minutes on, 10 minutes break to mimic cluster feeding & maximise let downs (& increase the chance of oversupply and therefore volume)
Change your pump flanges monthly as these will degrade over time and will affect pumping.
 

Our guest blog has been written by the fantastic Midwife Angie, who teaches KG Hypnobirthing midwife led antenatal and hypnobirthing classes, accredited by the Royal college of Midwives.
Midwife Angie is also a registered and trained health visitor, baby massage practitioner, pregnancy masseuse and is aromatherapy trained. Her Instagram account @ecomidwife, offers honest advice and support to thousands of women.