Can essential oils be a natural support during perimenopause?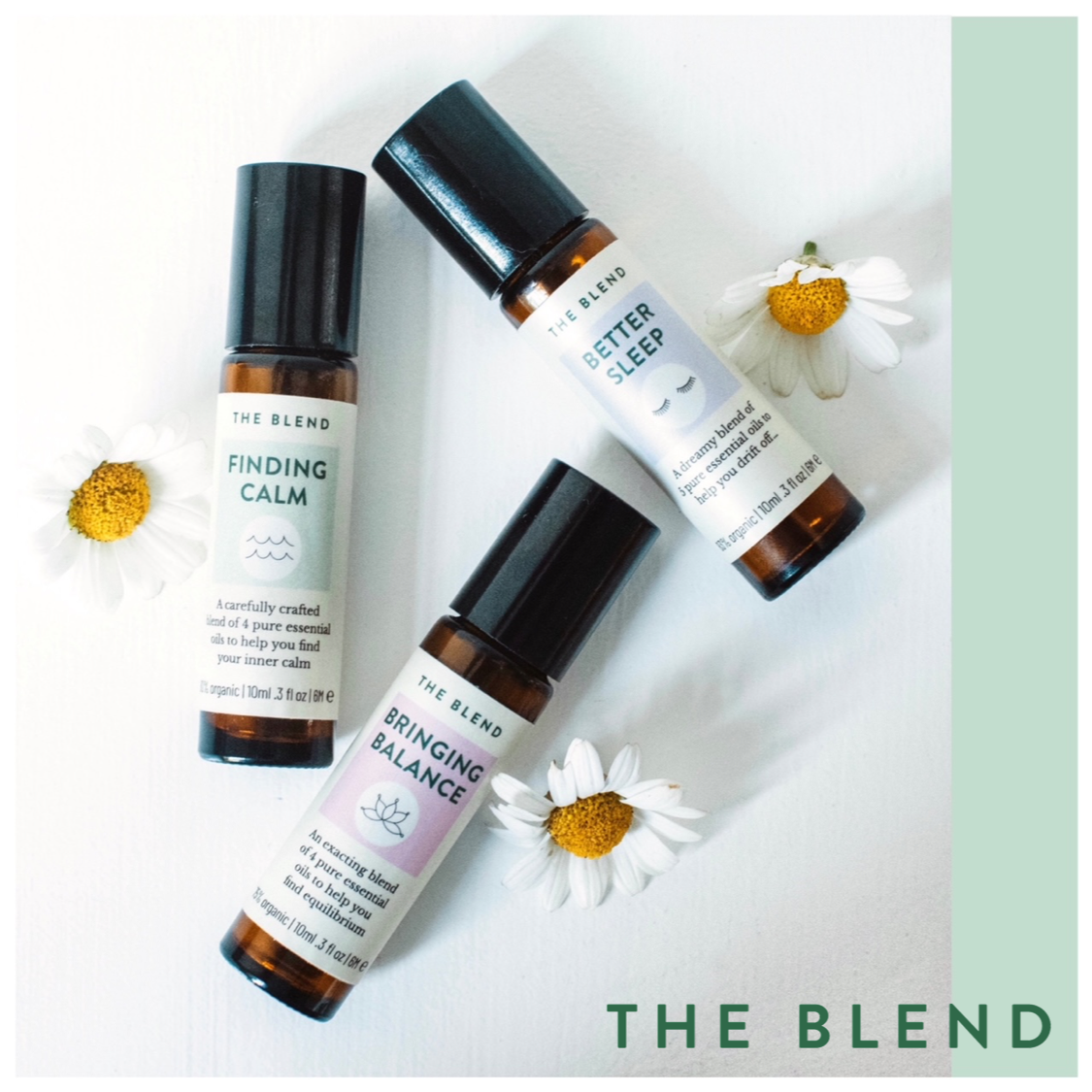 Hello, we are Trudie Ball and Vicky Groombridge and we are the founding partners of The Blend Essential Oils, a new wellness brand producing pure essential oil blends formulated to help provide holistic support for the relief of perimenopause and menopause symptoms. 
Vicky and I first stumbled across the term 'perimenopause' in early 2021. Both in our early forties we were shocked that we could get this far completely ignorant to this incredibly important phase of our lives. Suddenly a whole host of things started to make sense. This was great as we could take steps to address them. However, we found the lack of information and support around perimenopause and menopause shocking. There are currently 13 million peri or postmenopausal women in the UK right now – a third of the female population! 
We were angry that women are so often left to fend for themselves, the fallout of which can be devastating. This lack of education and awareness coupled with continued negative perception and associated secrecy, shame and stigma, we realised menopause required a rebrand.
But what is perimenopause?
Perimenopause is the time leading up to the menopause where oestrogen and progesterone levels begin to fluctuate. 

Perimenopause can begin 10+ years before menopause (generally late 30s, early 40s).

The fluctuation in hormones can cause a whole myriad of possible symptoms – there are currently 48 known symptoms which can be assigned to perimenopause and/or menopause!
We knew we wanted to do something to a) help relieve symptoms so women can live happier and b) raise awareness, so women are educated earlier and have the opportunity to seek help sooner.  But what could we do?
We were in a very fortunate position as Vicky's mother, Zoe Henderson, has been working with essential oils for decades. We studied the beautiful formulas she created with her expert team including a medical herbalist, a creative perfumer, a biologist, and an aromatherapy chemist, and realised that many of the blends had been developed to help with very specific symptoms we could assign to common symptoms of perimenopause - sleep issues, anxiety, stress, highs and lows, achy muscles and joints and so on. 
We realised that when these formulas were first created nobody talked about menopause, the conversation simply didn't happen. But we now had an opportunity to resurrect these incredible blends and help a new generation! We could provide holistic support through quality essential oils.
'The power of nature is unsurpassed when it comes to holistic healing of the body, mind and soul.' -  Zoe Henderson, Founder of Angel Oil Ltd
But how do essential oils blends work, and how could they help? 
Our pure essential oil blends work on the principles of aromatherapy. Aromatherapy is multi-layered and works through smell and topical absorption. A remarkable aspect of aromatherapy is that it works on several conditions at the same time - the mind can be stimulated and energised while the body is being soothed, relaxed and revitalised. 
Your Olfactory: When you breathe in one of our beautiful scents, the aromatic molecules come into contact with your Olfactory - a group of nerve cells right at the top of your nose, (and one of the oldest parts of the brain). As specific aromas are identified, messages are sent to the limbic system, part of your brain responsible for your behavioural and emotional and physical responses. In this way, essential oils can have a subtle, yet holistic effect on the whole body.
Your Bloodstream: When you apply one of our indulgent blends to your pulse points or on your achy muscles and joints, the molecules in our blends travel through the top layer of your skin, the epidermis, down to your dermis and into your blood vessels where they can be carried through your bloodstream to your entire your body, stimulating the body's own natural healing and balancing process. 
Some essential oils, such as Clary-Sage, which features in our Brining Balance blend, can help balance out oestrogen in the body. Rose oil, which features across all three of our rollerball blends, has been shown to help boost your mood by improving serotonin and other neuropeptides in the brain - your body's natural feel-good hormones. Lavender and Frankincense, two more of our favourite oils can help to lower cortisol levels, so are great stress relievers. 
And don't forget the importance of ritual and consistency. Massage and touch help to stimulate those fabulous natural feel good hormones, serotonin and dopamine. The simple act of taking a moment to roll the soothing blends onto your skin. Taking a moment to breathe in the heavenly scent and be in the moment, is a fantastic way to bring your body and mind back into balance and calm the parasympathetic nervous system, which helps to calm the body. Making sure to introduce these little moments of calm, morning, noon and night are all great habits to introduce to your daily life. 
Excited about the possibility of really being able to help, we developed a panel of 300 women aged between 37-50, and asked them what they knew about perimenopause and/or their experience of it, the overwhelming response was 'I'm not there yet!' And we get it! 
We also asked our panel what their main areas of concern were when it came to perimenopause symptoms they might be experiencing, the top three issues were;
Poor quality sleep

Anxiety

Irritability
Other symptoms were muscular aches and pains, lack of energy, lack of focus, skin conditions and thinning hair. 
But having awareness of perimenopause is incredibly important for a number of reasons, not least for your physical and mental wellbeing. Did you know:
The average age is of a person experiencing menopause is around 52.

The menopause is actually 1 day. The day you have gone a full 12 months without a period.

After that day you are in post-menopause.

PRIOR to your menopause day you will be, for a period of time, peri-menopausal. This is the stage where your oestrogen and progesterone levels start to fluctuate, which is why you may start experiencing symptoms.

Perimenopause can start up to 10+ years before your menopause, so possibly in your late thirties or early 40s and you could be experiencing it for quite some time.
Oestrogen and progesterone are so important for our bodies to function well, including brain and bone health​​. Not only do our bones protect our vital organs, they produce blood cells that help transport oxygen and store minerals. When oestrogen levels decline the risk of developing Osteopenia or Osteoporosis increases, which is why having awareness of perimenopause and the changes happening on the inside of our bodies during this time is so important. It means we can take steps to care for our bone health, brain health and overall quality of life early - so we can live life happy and healthy.
From our panel we understood the  key symptoms we wanted to tackle. We had formulas specifically designed to help with these issues and we set to work. All our products are 100% natural, ethically sourced, with no nasties. And although they are fabulous products, they are designed to be part of your peri-toolkit, alongside whatever other supplements, vitamins, minerals, HRT and medication your healthcare professional recommends.. 

And this how The Blend came to be - as a way to help women physically, through a range of beautiful, organic essential oil blend products, but also practically, through championing charities, organisations and experts striving for change, including the marvellous HotTea Mama and their range of Menopause teas. The more we talk and share our experiences and knowledge, the more we can raise awareness and break down stigma – we can live healthier and happier lives. 
Trudie & Vicky
https://www.theblendessentialoils.com/
Take 20% your first order with code FIRST20