PCOS Apple & Cinnamon Bircher Muesli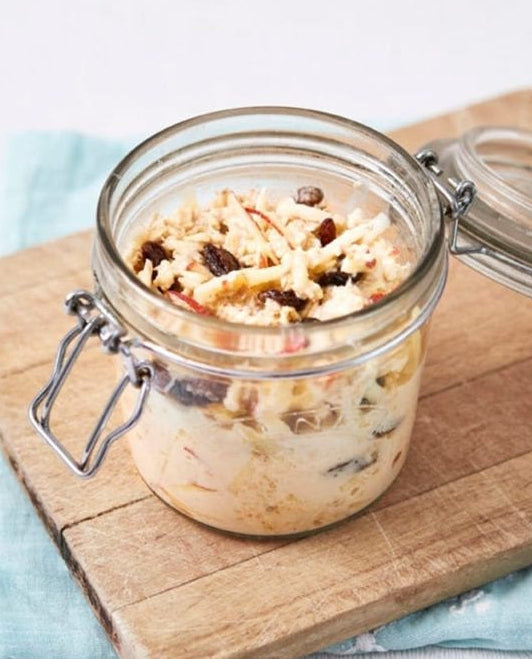 PCOS Overnight Apple & Cinnamon Bircher Muesli
Polycystic ovary syndrome (PCOS) is a common health condition experienced by 1 out of every 10 women. It is caused by high hormone levels of androgens and insulin.
What we eat affects the levels of insulin released. However, those with PCOS have higher levels which can cause insulin resistance, which also increases testosterone. This can upset the balance of hormones leading to acne, excess hair and irregular periods. 
Our recipe for overnight bircher muesli contains ingredients that have been found to help with the symptoms of PCOS, and they also taste delicious!
Ingredients
40g Oats
80ml Apple Juice
15g Cranberries/Raisins
Large pinch of Cinnamon 
50g Greek/Natural Yoghurt
1 small Apple grated
15g Flaked Almonds
Method
Mix all of the ingredients together except for the apple and almonds.
Cover and leave in the fridge overnight. 
In the morning grate the apple, stir through the oats, top with the flaked almonds and an extra sprinkle of cinnamon if you like. 
Enjoy with a cup of our Over The Moon Tea.
It is recommended to include the following foods in a healthy PCOS diet, to help stabilize insulin levels, and reduce inflammation:
Low glycaemic index (GI) fibre rich foods such as oats, muesli, wholegrain bread and pasta, brown rice.

Omega-3 fatty fish that can help reduce inflammation, including salmon, tuna, sardines, and mackerel.

Kale, spinach, and other dark leafy iron-rich greens.

Dark red fruits, such as red grapes, blueberries, blackberries, and cherries.

Dried beans, lentils, and other legumes.

Foods high in healthy fats, such as olive oil, avocados, coconuts and nuts.

Anti-inflammatory spices, such as turmeric and cinnamon.