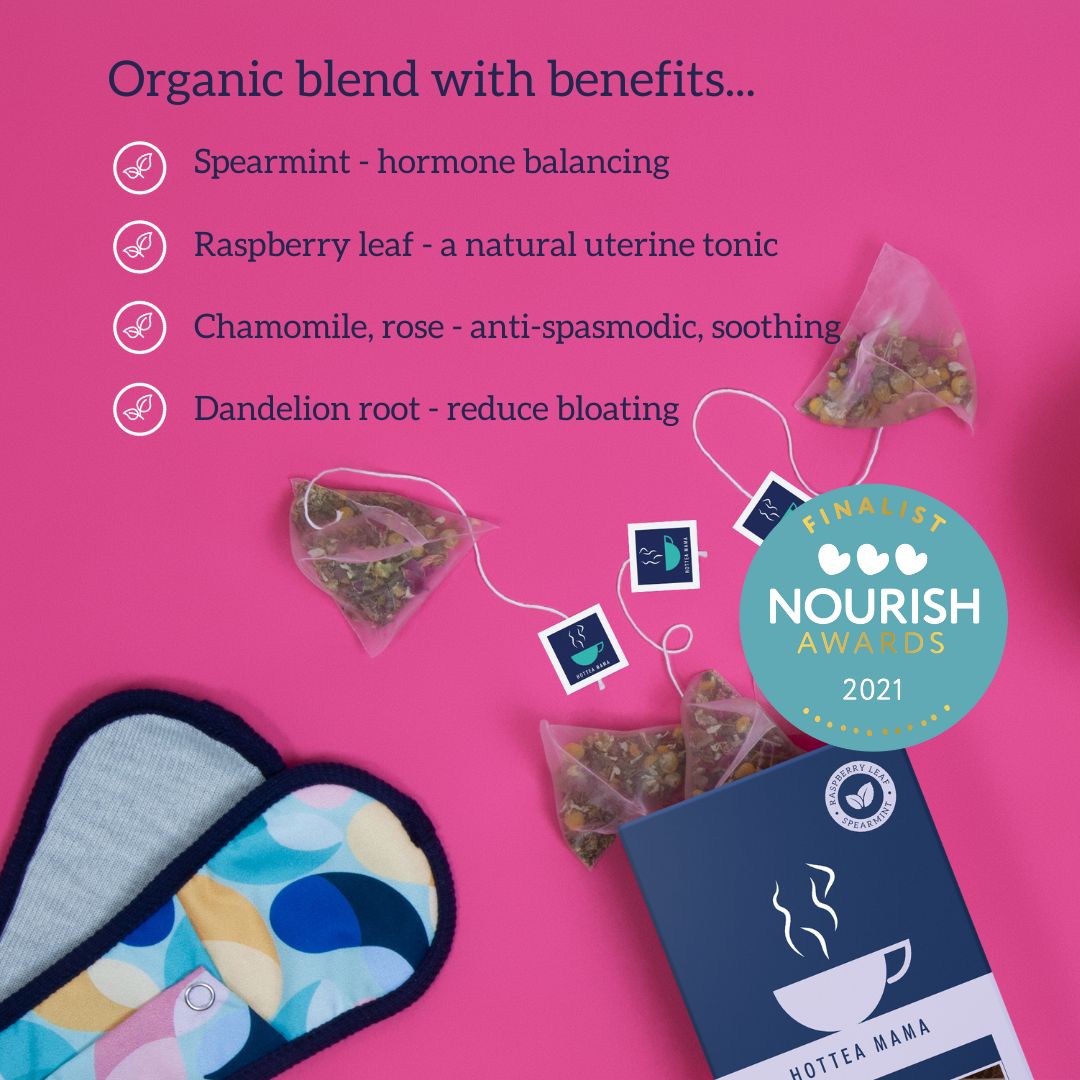 Can tea help with IVF?
I'm often asked if there are any teas that can help if you're undertaking IVF treatment.
The general rule, is that there unfortunately aren't any teas proven to help with IVF in research studies...there aren't actually any research studies!  Tea should really be seen as part of a healthy diet, which can definitely impact your treatment to a degree.
However, there are some key areas around tea, such as reducing your caffeine intake, that can certainly help. 
I also did research into certain herbs that may also be able to help, and ensured that they are in our Over the Moon menstruation tea - which is the only tea we'd recommend considering.  It's not a guarantee, but it hopefully has ingredients that can ease stress and hep strengthen your uterus to potentially help with implantation.
Drink caffeine-free teas
There are studies in place looking at the impact of caffeine on IVF treatment. And one in particular, showed that women who drank more than five cups of coffee a day, were 50% less likely to have a successful implant than women who didn't drink coffee.  
Having a really high dose of caffeine a day was considered to be as bad as smoking.  But it's important to say that you shouldn't see this as a reason to cut out all coffee.  The recommended level is 200mg per day.  This can allow for 1 coffee a day, plus some chocolate.  But it's a great level to stick to - the same as will be required if you're successful and become pregnant anyway.
We'd always recommend our Get Up & Glow and Morning Rescue teas as brilliant alternatives to caffeine.  The Get Up & Glow gives you a boost without any caffeine by using grapes as the base.  Whilst the Morning Rescue has such a wonderful uplifting zingy flavour, it can perk you up easily!
Consider raspberry leaf tea
There's a lot of anecdotal evidence that raspberry leaf tea can help implantation.  It's known as 'the woman's herb' because it has been used traditionally to remedy all sorts of female issues, from period, to menopause and everything in between. 
But it's important to stress that this evidence is only anecdotal.  One of the best accounts of how someone felt it helped their treatment, is by Sprinkles and Salt blog HERE.  She started drinking one cup a day in the 2 weeks before her lining check, and stopped 6 days before the check.  She also made many other diet choices - as tea is not a miracle drug, it should only be seen as part of a holistic change.
If you wanted to do follow her timing and steps, we'd recommend our Over the Moon menstruation tea as this is the highest percentage ingredient in this blend.  It is also blended with chamomile flowers to ease anxiety plus spearmint and gingko biloba to ease anxiety.
Ease anxiety with a calming tea
Undergoing IVF can be a very stressful process, and one which isn't an easy journey.  Stress can lead to a high level of cortisol in your system, affecting your sleep and general well being.
Whilst tea (again!) isn't a magical cure for this, a cup of the right tea can go a long way to soothing your nerves. We designed our Over the Moon blend to contain whole chamomile flowers to hep with this, but our Night Owl blend is really the bomb for calming nerves!  
The ingredients are:
🍃 Whole chamomile flowers: In a study done in Taiwan, 80 women were given chamomile tea to drink post-labour. Compared to women who didn't have chamomile, the women had 40% improved sleep and 37.1% saw lower scores on emotional stability and relaxation.

🍃 Lavender: This little purple flower has been used for millennia to aid sleep and relaxation. Interestingly, a small study looking at giving women lavender essential oil to breathe immediately after labour, also showed the women were more relaxed, and felt they recovered physically and mentally quicker than women who were given sesame oil as an alternative.  There's no reason it shouldn't help in a similar way under any stressful circumstance.

🍃 Valerian root: We are very careful to only use a small amount in the blend, as this herb is a potent relaxant. It's been shown to be safe in pregnancy through a study completed in Sweden showing of 787 women who took it during pregnancy there were no negative outcomes - so it won't impact you negatively if you do become pregnant. Even in a small quantity it can help alleviate anxiety.

It works by stopping the breakdown of GABA (gamma-aminobutyric acid) in the brain. GABA is a chemical messenger that helps regulate nerve impulses in your brain and nervous system.

Researchers have shown that low GABA levels related to acute and chronic stress are linked to anxiety and low-quality sleep. Valerian root also contains the antioxidants hesperidin and linarin, which appear to have sedative and sleep-enhancing properties.

So whilst these herbs cannot guarantee a perfect night's sleep, or complete removal of all anxiety or depression, they can hopefully help and support you when you need it most.
We've combined Over the Moon and Night Owl in our Fertility Support Tea Set to give you benefits from both at this stressful time.