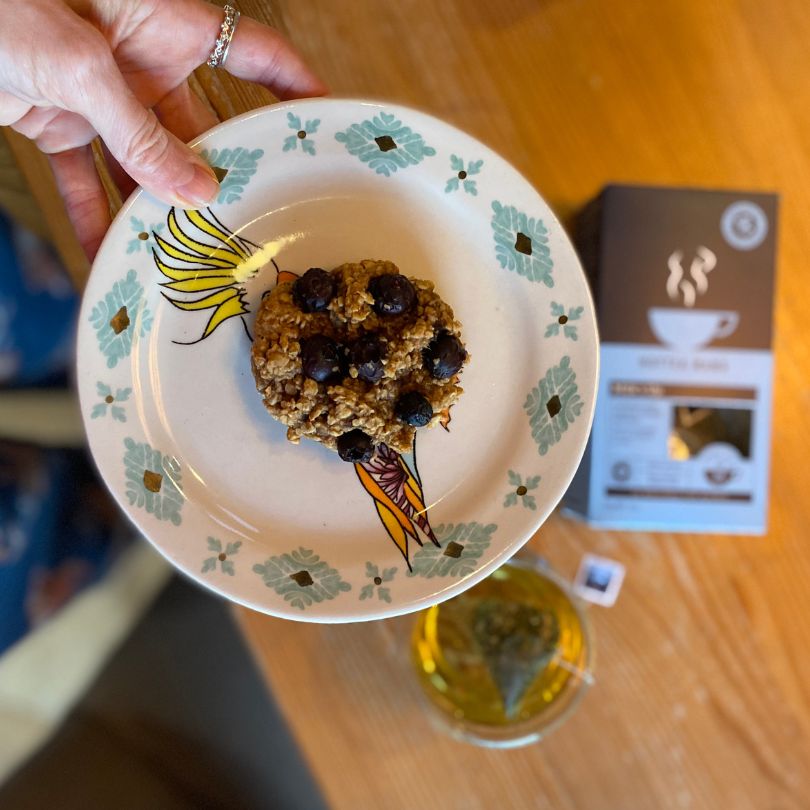 It's incredibly important to nourish your body while breastfeeding.  Lactation is hard, and your body can get support to magically turn fat into milk from the foods and tea you drink.  We can't recommend these easy cookies enough to any nursing mums. 
Oats are a galctagogue, just like fennel, fenugreek and aniseed which we blend into our lactation tea - Milk's Up. No one quite knows why, but they can help increase your milk supply, and are the perfect accompaniment to a good cuppa.
And most importantly, they take no more than 10 minutes to make and only require 3 (or 4) ingredients.
INGREDIENTS
- 200g rolled oats
- 2 large, or 3 small ripe bananas (ideally over-ripe)
- 125g peanut butter
- Optional: 40g of blueberries or chocolate chips
METHOD
- Preheat oven to 180 degrees (160 degrees if a fan oven)
- Mash the bananas in a large bowl
- Add oats and peanut butter, combine.
- Add blueberries of chocolate if you're adding.
- Lightly wet your hands and roll the oat mixture into 6 balls, press onto a baking tray
- Bake for 10-12 minutes until they are brown around the edges
- Let the cookies cool on a tray for 10 minutes before devouring!
We hope you love them as much as we do!