6 Ways to improve your Pelvic Floor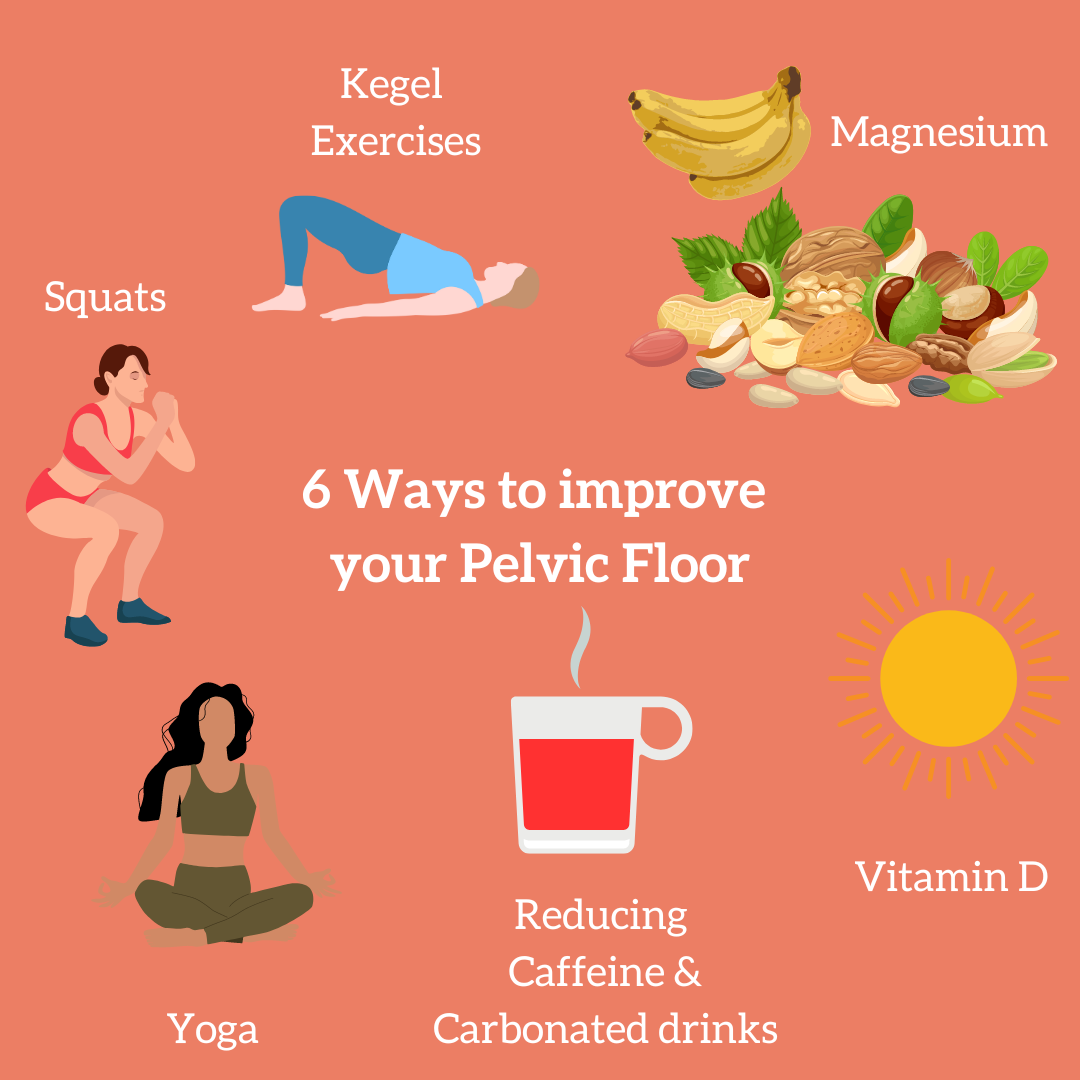 The pelvic floor is a group of muscles that supports the organs in the pelvis, including the bladder, uterus, and rectum. These muscles are crucial for maintaining urinary and bowel continence, sexual function, and overall core stability. However, like any muscle, the pelvic floor can weaken over time due to ageing, pregnancy, childbirth, and certain medical conditions.
When your pelvic floor muscles weaken it can lead to various health problems, such as incontinence, and sexual dysfunction. But there are a lot of different ways that you can strengthen your pelvic floor to improve your overall quality of life. 
- Kegel exercises are the most well known exercises to strengthen the pelvic floor muscles. These exercises involve squeezing and releasing the muscles that you use to stop the flow of urine. To do Kegels, start by finding your pelvic floor muscles by trying to stop the flow of urine midstream. Once you have located the muscles, squeeze them for 5-10 seconds, then release for 5-10 seconds. Repeat this cycle 10-15 time.
- Squats are a great way to strengthen the pelvic floor muscles whilst also strengthening your leg muscles. To do squats, stand with your feet shoulder-width apart, then lower your body as if you were sitting in a chair. Keep your back straight, your knees behind your toes, and your weight in your heels rather than your toes. Hold this position for a few seconds, then return to standing.
- Yoga can help improve pelvic floor function by increasing flexibility and circulation in the pelvic area. Certain yoga poses, such as the bridge pose, the pigeon pose, and the goddess pose, can target the pelvic floor muscles. Consult with a yoga instructor or doctor before starting any new exercise routine.
- Magnesium is really important as it helps to support healthy muscle and nerve functions, and can reduce bladder muscle spasms. It is also a proven laxative and softens stools to allow them to pass more easily through your bowel, which avoids straining your pelvic floor. Foods that contain magnesium include potatoes, bananas, wholegrains, beans and nuts. 
- Reducing caffeine and carbonated drinks. You should avoid caffeinated drinks (coffee, tea and fizzy drinks), as they are a diuretic and bladder irritant, and can cause the bladder and any part of the pelvic floor to become overactive. Our Get up and Glow is the perfect option if you are looking to reduce your caffeine intake. It is caffeine free and contains grapes as its base, to give you a gentle uplift when you need it.
- Vitamin D - recent research has shown that if you have good levels of Vitamin D you are at less risk of having a weakened pelvic floor. Vitamin D improves muscle strength and function, and insufficiency is linked to loss of muscle mass. Vitamin D has been shown to increase muscle efficiency, and at the right levels can have a positive effect on our pelvic floor muscles. You can take a Vitamin D supplement to ensure your levels are in the healthy range, especially during the colder months. Vitamin D can also be found in foods including oily fish, raw milk and eggs. However if the sun is shining, take a moment to sit out in the sun and enjoy a cuppa. Sunshine is one of the best ways to naturally increase your Vitamin D levels. 
Teas designed to support wellness