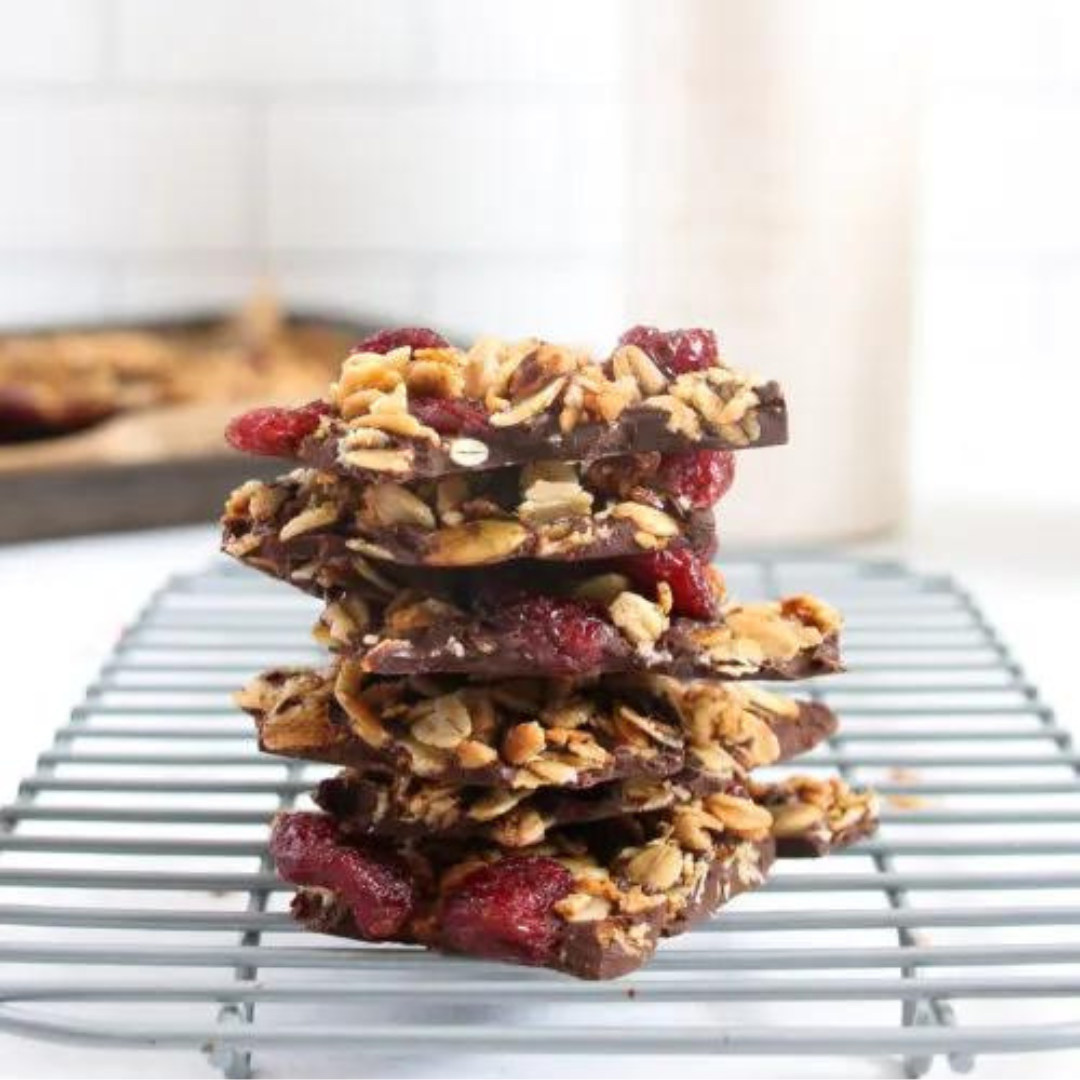 Menopausal symptoms are brought on by fluctuating hormones. This chocolate bark is a delicious snack packed full of ingredients that can help ease these symptoms.
It would make a great gift for a friend, as it is so easy to adapt to personal taste. You can use different dried fruit, nuts and seeds, swap out the granola, or toast your own nuts and oats.
Ingredients
150g Dark Chocolate (70% Cocoa)
2 Tbsp Granola (We used Liz's High Protein Granola)
1 Tbsp Pecan Nuts, roughly chopped
2 Tbsp dried Cranberries (Dried Cherries and Raisins would also work well)
Method
Melt the Dark Chocolate in the microwave, or in a bowl over a saucepan of simmering water.
Line a baking tray with baking paper. 
Once the chocolate has melted thinly spread over the baking paper
Sprinkle over the granola, nuts, and cranberries
Put in the fridge for an hour to set
Break into chunks and enjoy with a chilled cup of our Take A Pause Menopause Tea. 
Take A Pause Menopause Tea is specially blended to offer support and relief through the tough menopause transition, from perimenopause to postmenopause.
Benefits 
Nuts & seeds - studies have shown that omega rich foods such as nuts and seeds can decrease the frequency of hot flushes and the severity of night sweats. They contain essential fatty acids, and give you vital nutrients to help support your nervous system, keep your skin supple and help with mood.
Seeds - are also full of phyto-oestrogens, acting in a similar way to oestrogen, they can help in keeping your hormones more balanced.
Berries - dark berries have been shown to reduce blood pressure in menopausal women. They are also high in vitamin-c and boron which is important for maintaining bone density.
Dark chocolate - Eating dark chocolate will satisfy sweet cravings and combat depression and other mood changes during menopause. It contains magnesium which can help raise serotonin levels, which are responsible for stabilising mood.
Oats - Whole grains are an excellent source of heart-healthy soluble fibre, plant protein, and some B vitamins responsible for energy and metabolism regulation. Menopausal women are advised to increase their protein intake to maintain bone density and improve muscle mass.