Natural ways to support fertility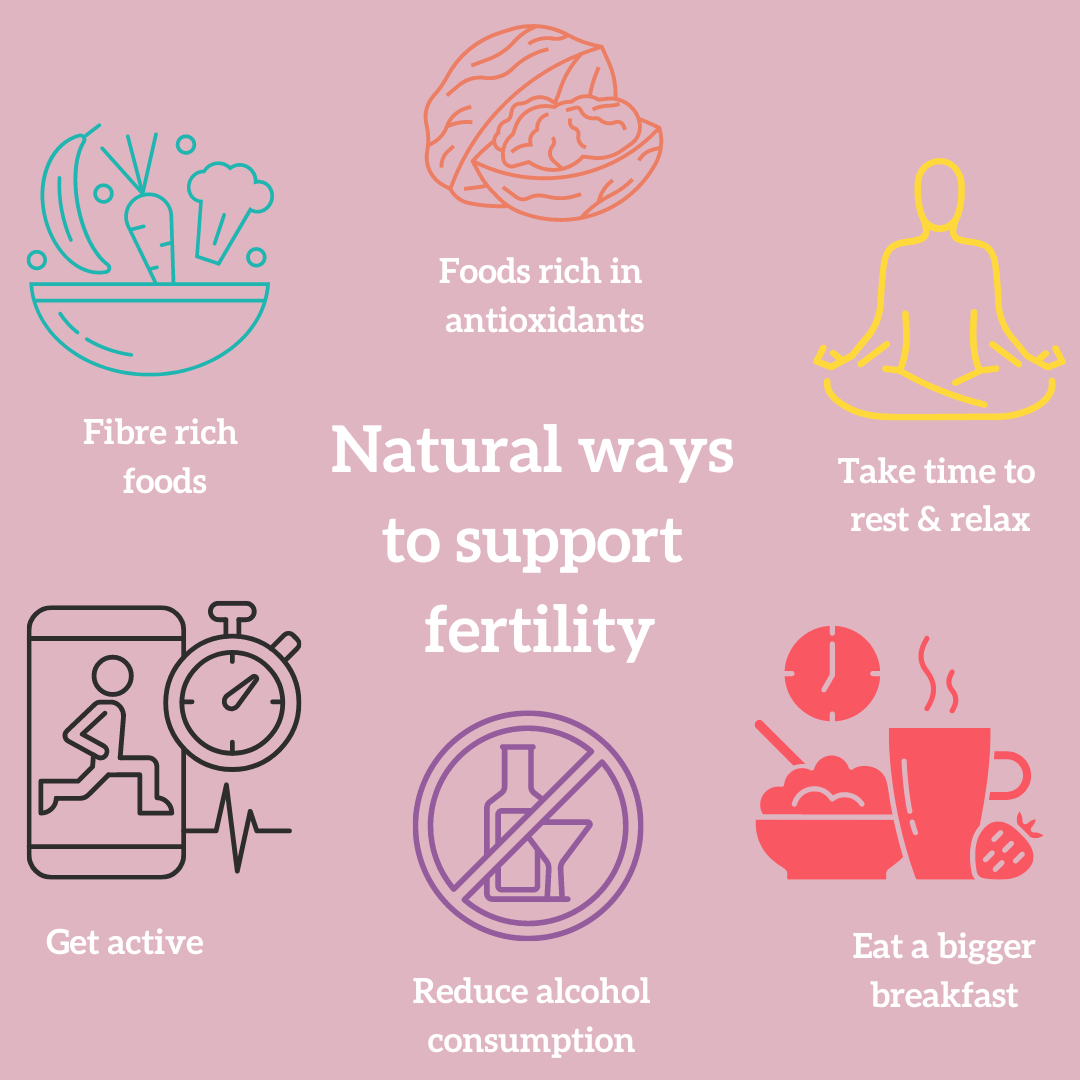 Eating a nutritious diet and making positive lifestyle changes can help boost fertility and prepare your body for pregnancy.  
Eat foods rich in antioxidants
Antioxidants like folate and zinc may improve fertility for both men and women. They deactivate the free radicals in your body, which can damage both sperm and egg cells.
One study showed that adult men who ate 75 grams of antioxidant-rich walnuts per day improved the quality of their sperm. 
Include foods into your diet such as fruits, vegetables, nuts, and grains, all of which are packed full of beneficial antioxidants like vitamins C and E, folate, and beta carotene. 
Eat a bigger breakfast
Eating a substantial breakfast may help women with fertility problems.
Research has shown that eating a larger breakfast may improve the hormonal effects of polycystic ovary syndrome (PCOS), a major cause of infertility. Eating a healthy breakfast reduced insulin levels by 8 percent and testosterone levels by 50 percent. High levels of insulin and testosterone have been found to contribute to infertility.
Our PCOS bircher muesli is a delicious, nutritious, quick breakfast option that you can prepare the night before, and grab and go during a busy morning.
Avoid trans fats
Eating healthy fats every day is important for boosting fertility and overall health.
However, trans fats are associated with an increased risk of ovulatory infertility, due to their negative effects on insulin sensitivity.
Trans Fats are commonly found in hydrogenated vegetable oils and are usually present in some margarine, fried foods, processed products, and baked foods. 
Studies have found that a diet higher in trans fats, and lower in unsaturated fats was linked to infertility for both men and women.
Eat more fibre
Fibre helps your body get rid of excess hormones and keeps blood sugar balanced. Certain types of fibre can help remove excess oestrogen by binding to it in the intestines. The excess oestrogen is then removed from the body as a waste product.
Soluble fibre from foods such as avocados, sweet potatoes, oats, and fruits, have lower levels of oestrogen and progesterone. 
Other high fibre foods that are recommended to support fertility are whole grains, fruits, vegetables, and beans. The daily recommended intake of fibre for women is 25 grams per day and 31 grams for men.
Get active
Exercise has many benefits for your health, including increased fertility. Increasing moderate physical activity has positive effects on fertility for women and men.
This is not embarking on an excessive high intensity exercise regime, as this can be detrimental. Moderation is key, and can also alleviate stress and anxiety, help you to sleep better, and improve your overall health. 
Take time to rest and relax
If you're trying to conceive, your stress levels are likely to increase. Research suggests that hormonal changes that occur when you are stressed can impact your chances of getting pregnant. 
The Mind website has useful information and links for self-care ways to reduce anxiety and stress levels. Getting more sleep, finding enjoyable activities and hobbies, such as yoga, can all also help to improve your mental wellbeing and anxiety levels.
Avoid excessive alcohol consumption
Alcohol consumption can negatively affect fertility. However, it's unclear how much alcohol is needed to cause this effect. Recent studies though, have linked excessive alcohol consumption to decreased testosterone and sperm production. 
If you're trying to get pregnant, good nutrition is vital for a healthy body and reproductive system, and to help you become pregnant. 
When embarking on any new exercise programme, it is always advised that you speak to your healthcare professional, to find the best choices for you.
The NHS website has further information about diet and lifestyle changes you should consider when trying to conceive. 
Teas for everyday wellness