Free shipping for UK orders over £18 & Australian orders over $30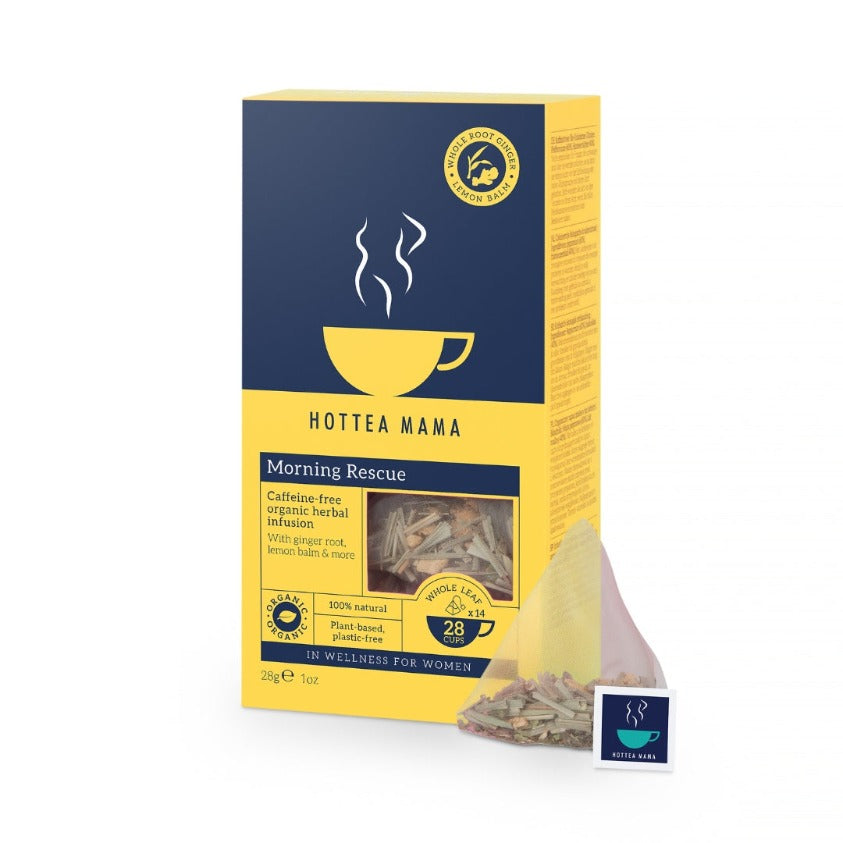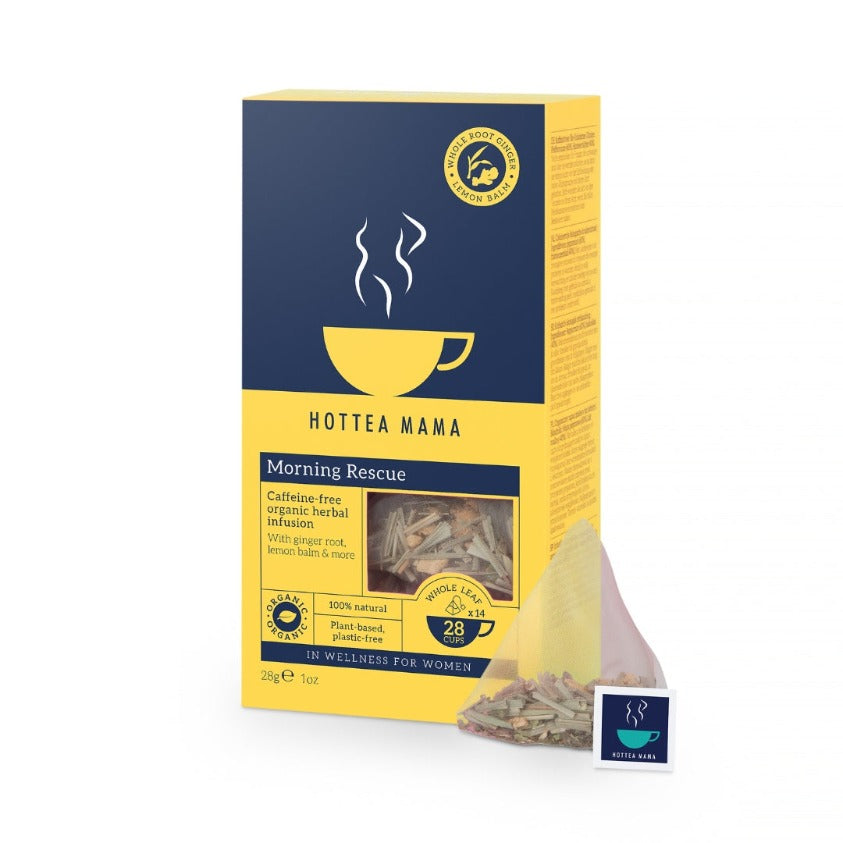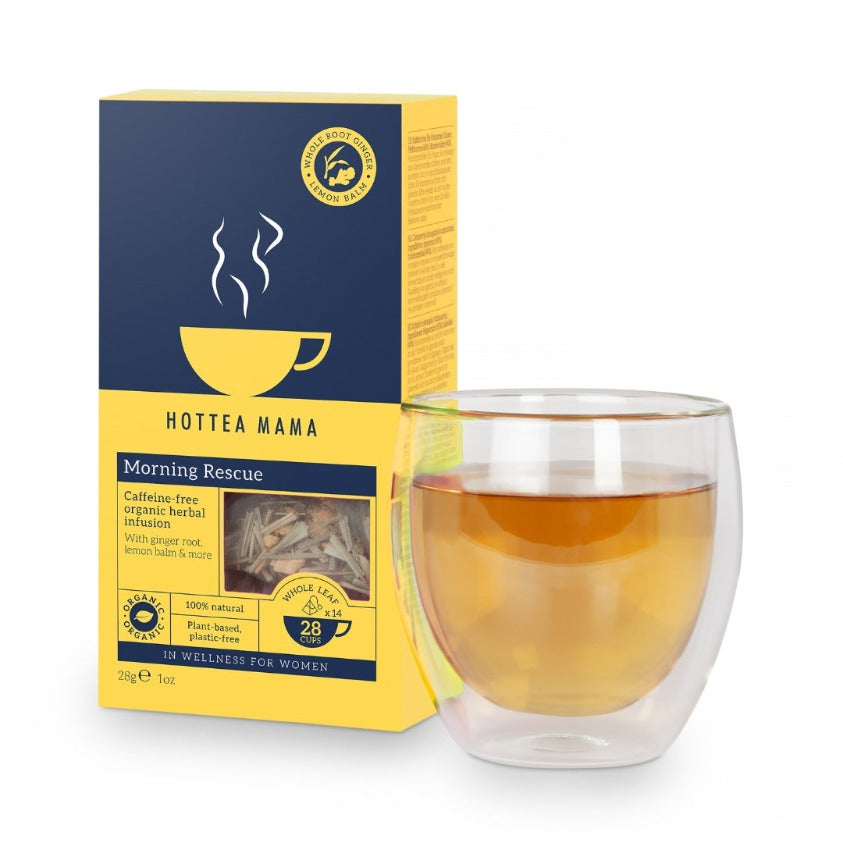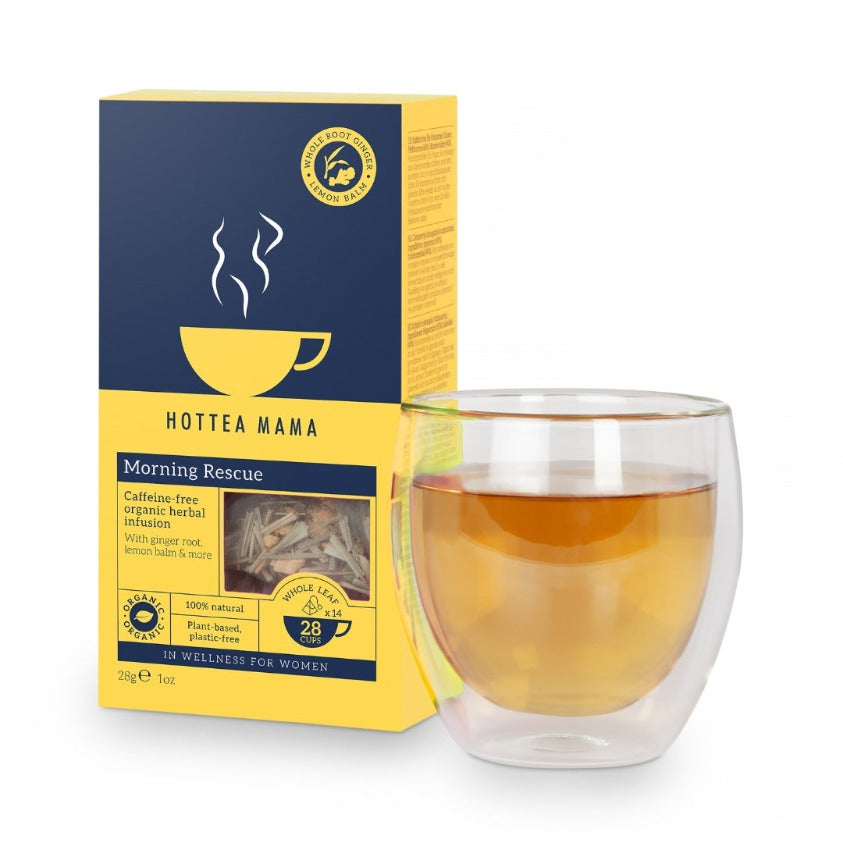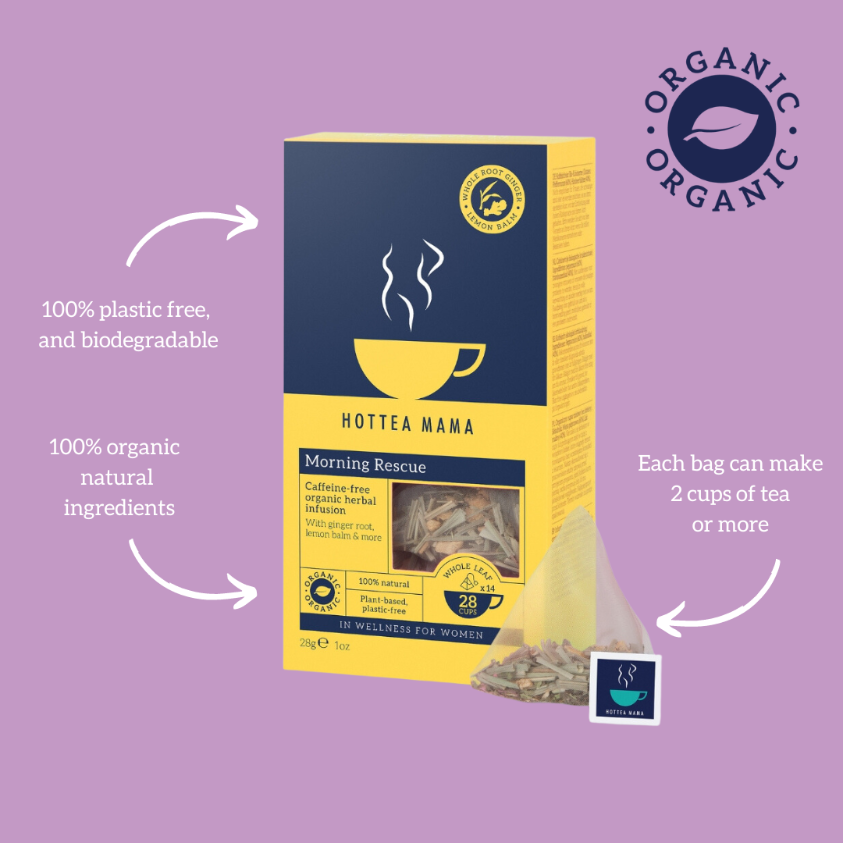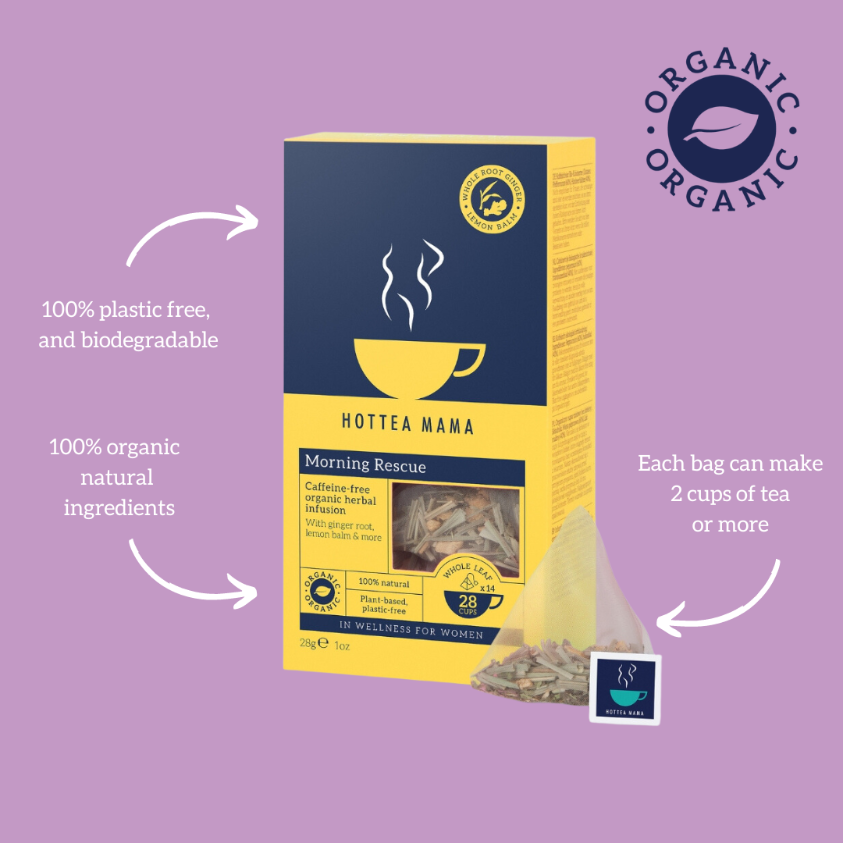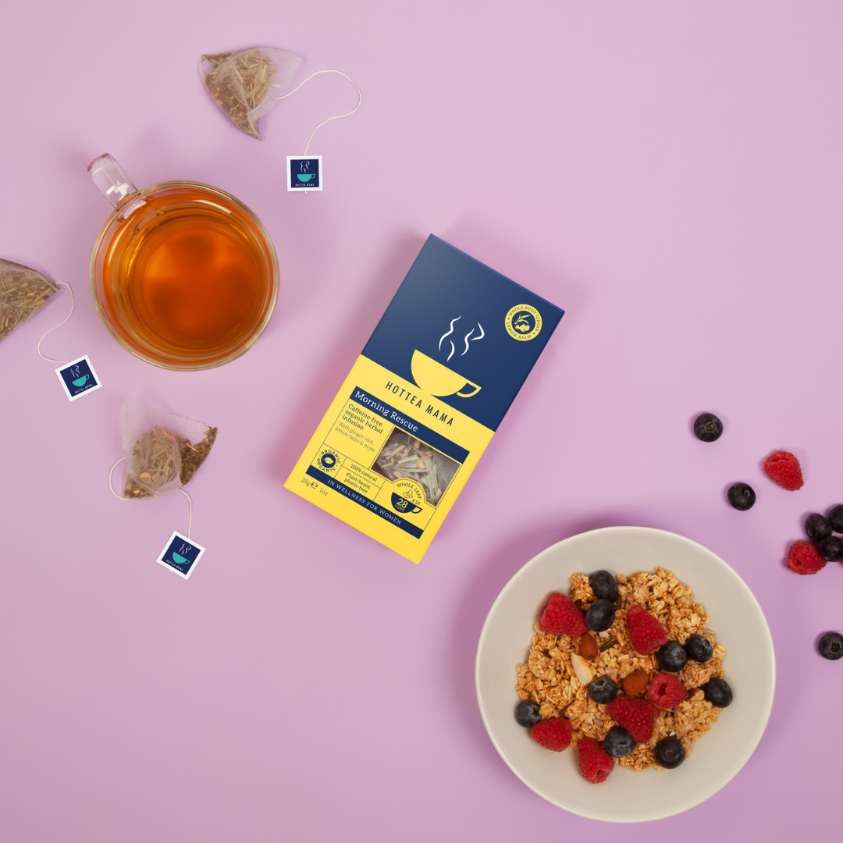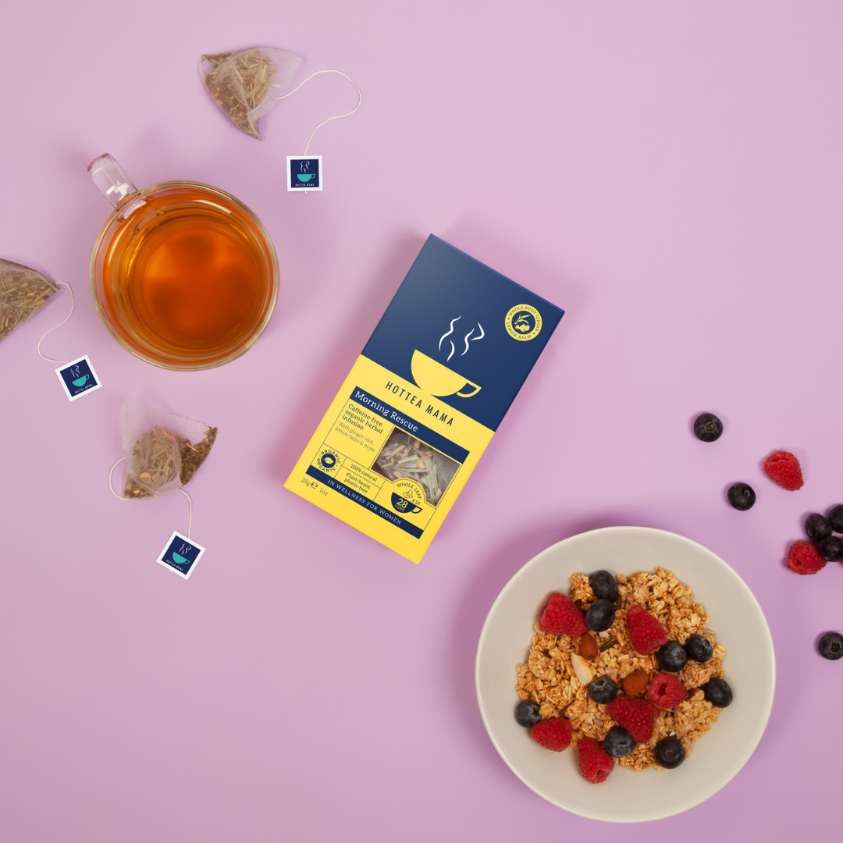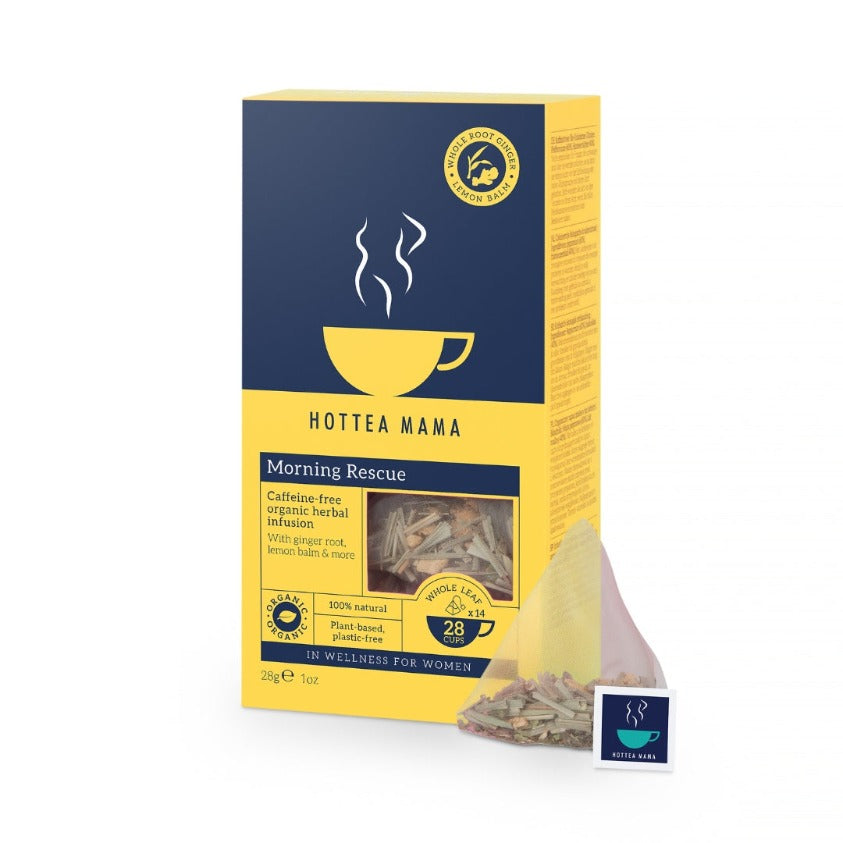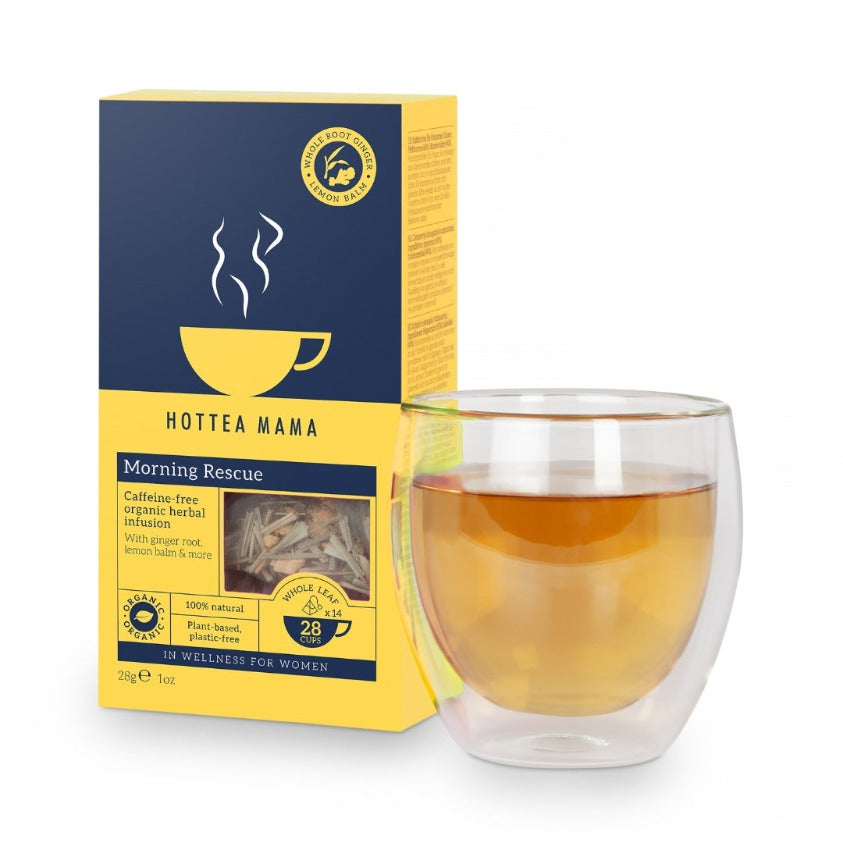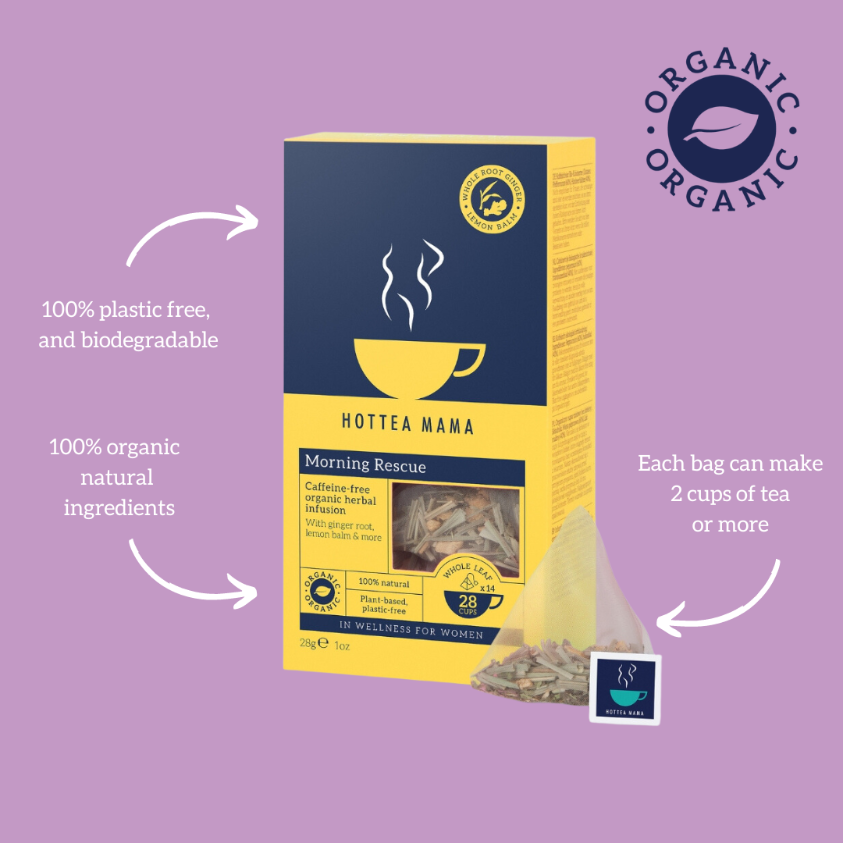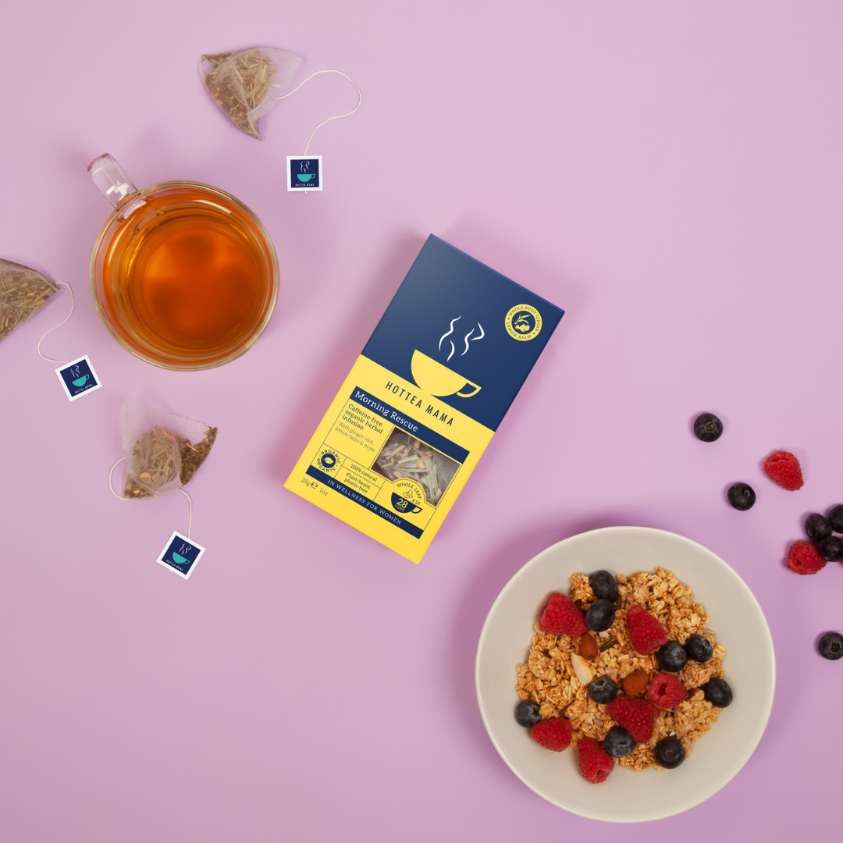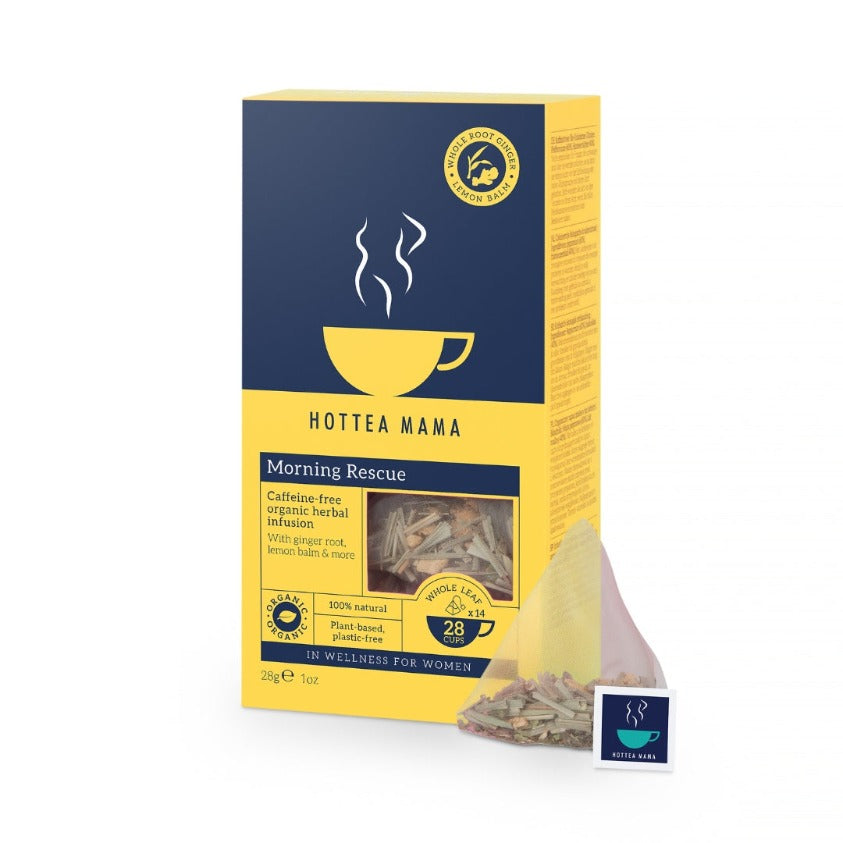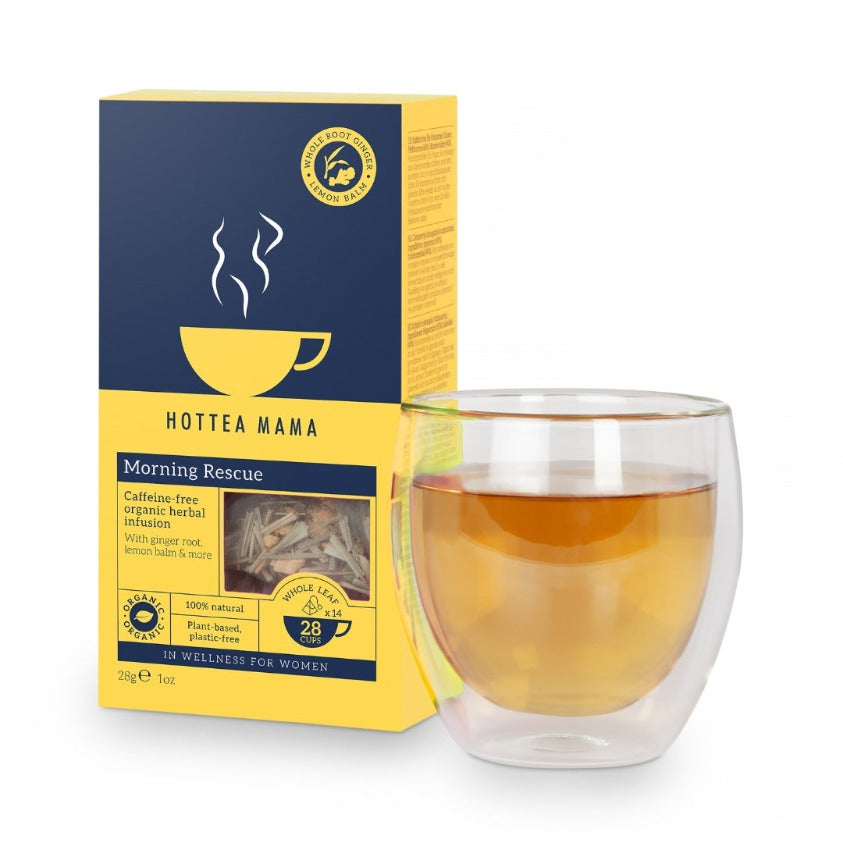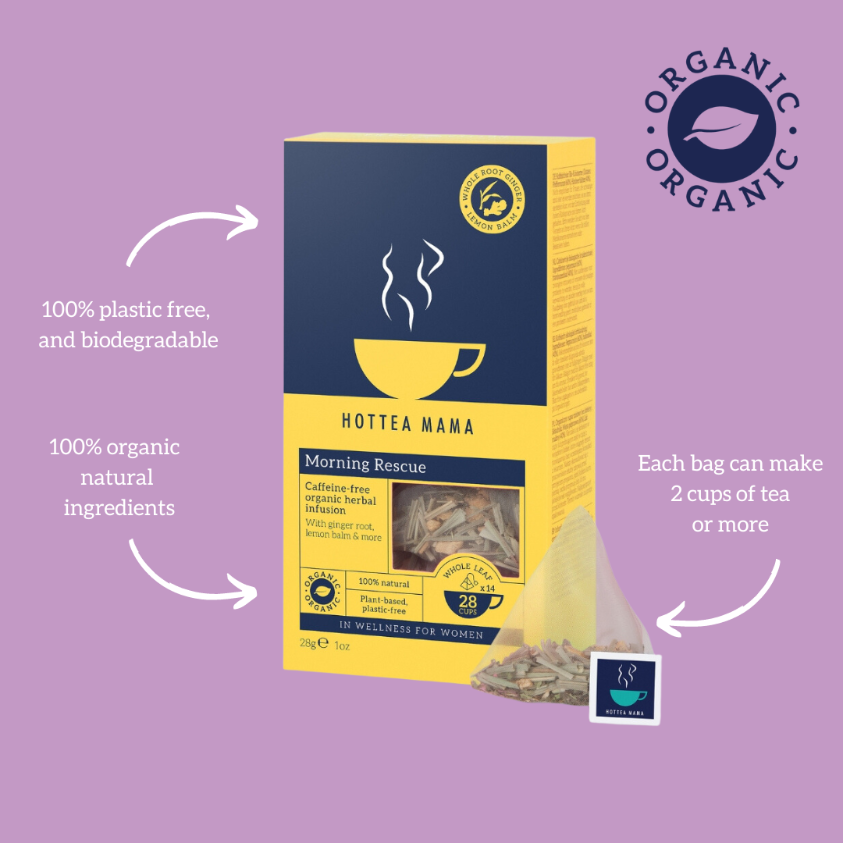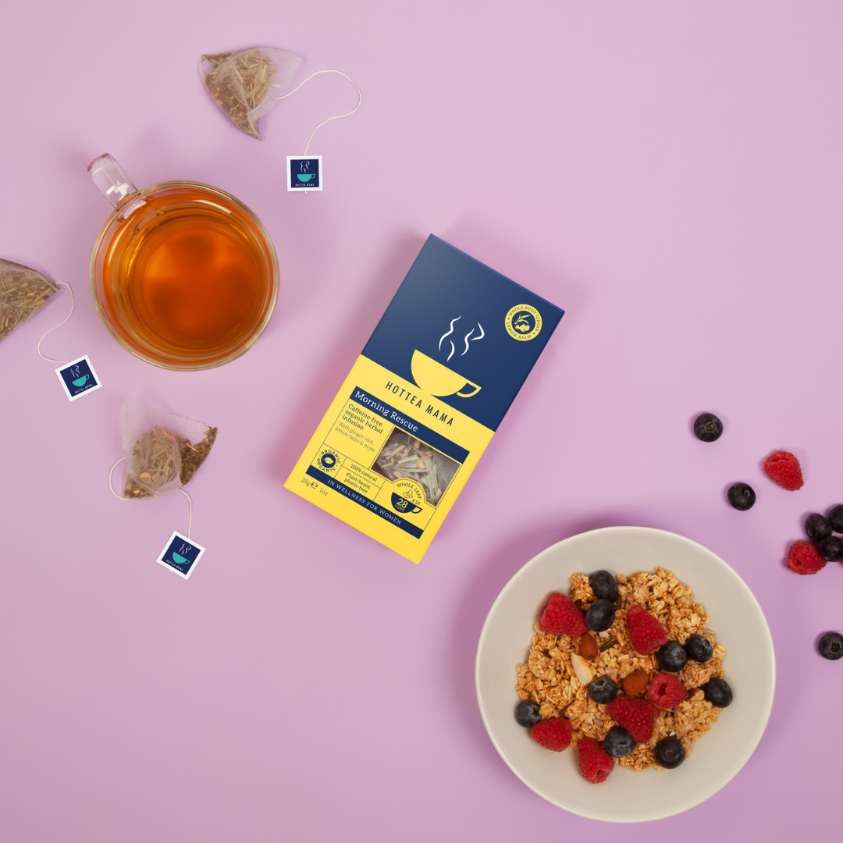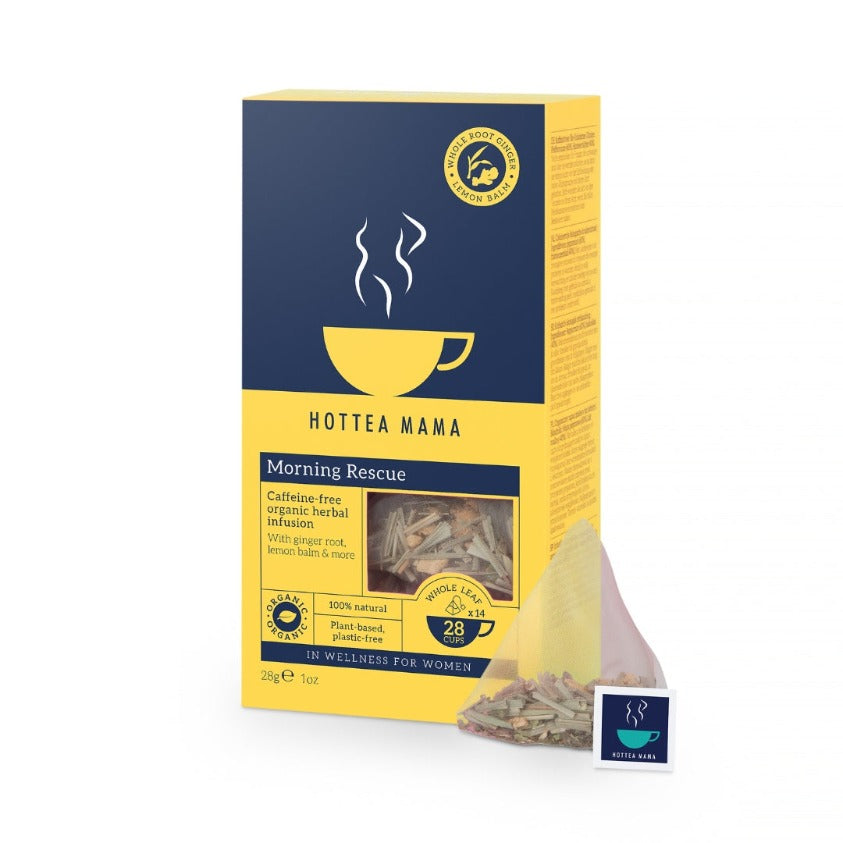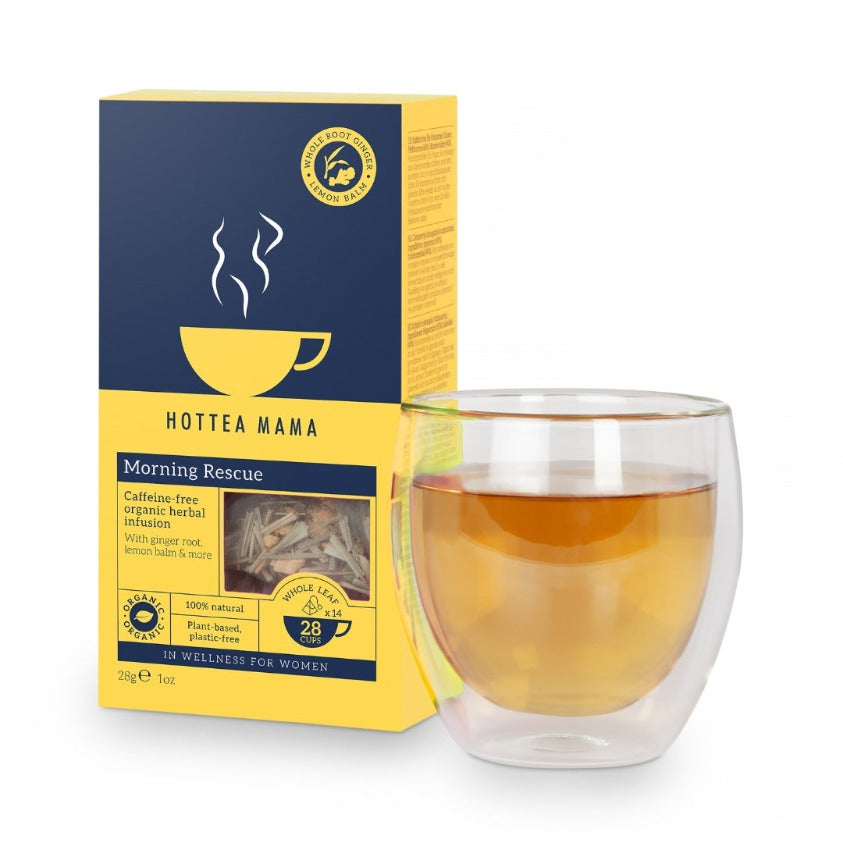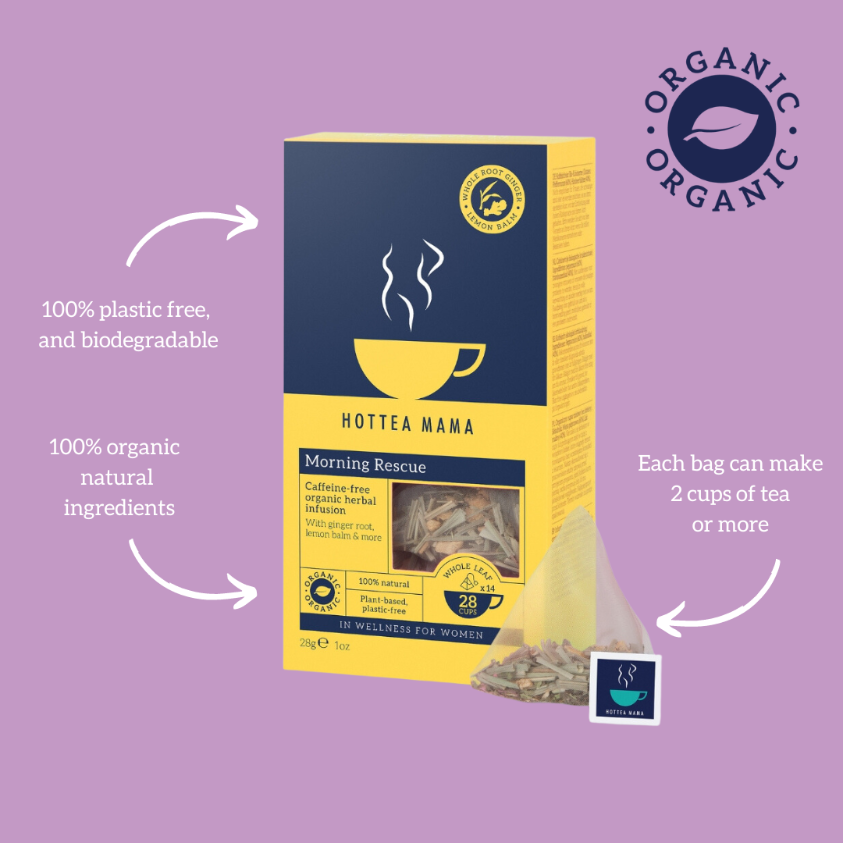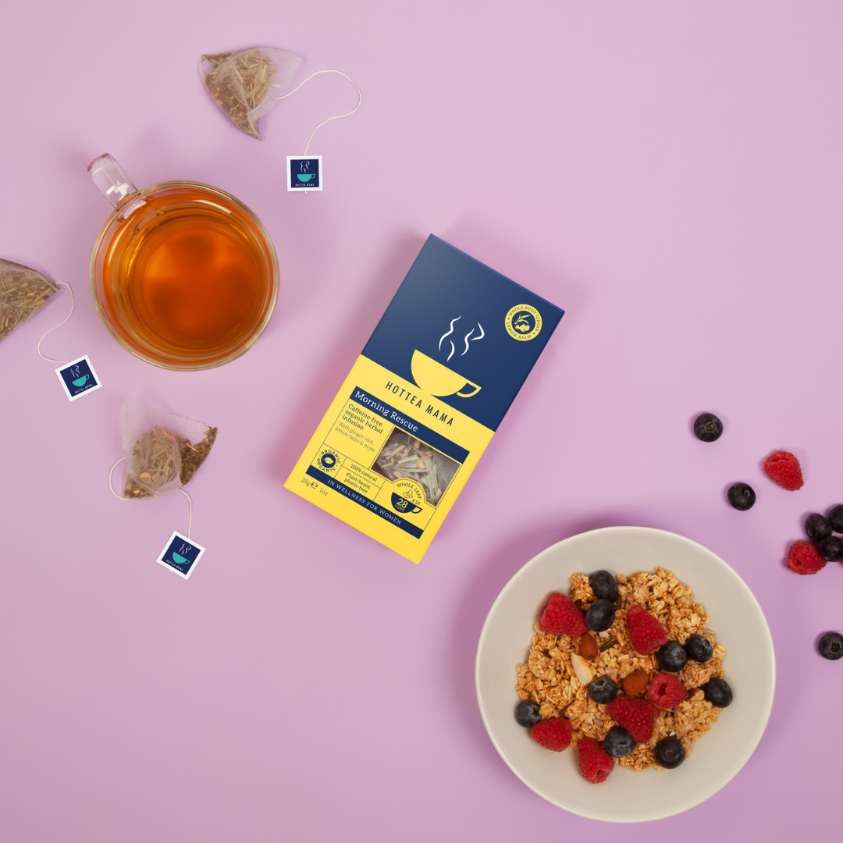 Organic Morning Rescue
Whatever your morning holds, this soothing herbal tea has got your back.  Crafted using all deliciously natural, organic, anti-inflammatory herbs to calm your nerves, your tummy and your mind...
This organic tea uses whole leaf, anti-inflammatory, calming herbs - lemon verbena, lemon balm, African mint and lemongrass combined with pieces of ginger root





It's benefits link to the gingerols in the ginger, and citrals in the lemon-y ingredients that can aid digestion and soothe unsettled tummies, heartburn and indigestion
Completely caffeine free - suitable for low caffeine diets including pregnancy, breastfeeding and menopause





100% organic natural ingredients
100% plastic free, and biodegradable
Each bag makes 2 cups of tea - leave the bag in if you like a stronger brew
Each pack contains 14 biodegradable pyramid tea bags, enough for 28 cups or more
FREE UK SHIPPING when spending £18 (3 packs of tea or more).
Choose from 1 pack, or 4 packs for 10% off & free delivery, or 8 packs for 20% off and free delivery.

From the expert
"Morning Rescue Tea from HotTea Mama, blending ginger, lemon and mint- all supportive in reducing mild-moderate symptoms of nausea & sickness"
Megan Rossiter
Cert HE Midwifery, KGHDip Hypnobirthing
Read more about the benefits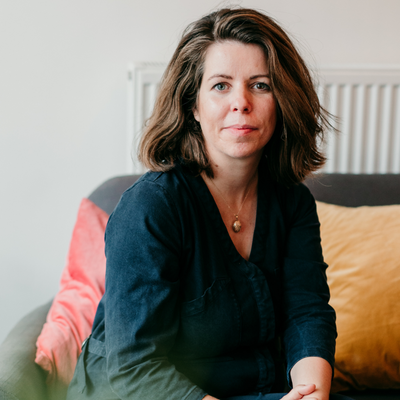 Additional Info
Morning Rescue is a tummy soothing blend of whole leaves of lemon verbena, lemon balm, African mint and lemongrass combined with pieces of root ginger.
These ingredients have all been used for millennia to support happy tummies. It is believed that their benefits link to the gingerols in the ginger, and citrals in the lemon-y ingredients that are both anti-inflammatory.
Uplifting and zingy – citrus with a touch of spice and a tingle of mint. We have used three different types of lemon to ensure that the sweet, citrus notes are the perfect base to the tea
Lemongrass - has notes of mint in its flavour profile
Lemon Balm - is mellow and warming, and can help to ease pain and discomfort from indigestion
Lemon Verbena - is sweetly pungent
Ginger - whole pieces of Ginger bring a warming tingle to the tea, and also can help to relieve  bloating
African Mint - finishes the blend with a sweet note
Is Lemongrass suitable for pregnancy?
Studies have shown that the essential oil, citral, can have hugely beneficial effects in easing nausea, after it is inhaled regularly for 2-4 days. This is a key component of lemongrass and why it is recommended as a tea or aromatherapy treatment if you suffer from nausea. 
If you google lemongrass and pregnancy, you may read that it is dangerous. However, this is not true. It is unfortunately based on poor research.The only recent medical research on this (from Brazil in 2016 - Use of Medicinal Plants with Teratogenic and Abortive Effects by Pregnant Women in a City in Northeastern Brazil.Rev Bras Ginecol Obstet. 2016 Mar;38(3):127-31. doi: 10.1055/s-0036-1580714. Epub 2016 Mar 29.) shows that lemongrass definitely has no toxic impacts on pregnancy.
Many websites refer to a much older study (2006). Whilst the recent research proves it wrong, we should still consider it carefully.This study gave mice 60 mg/kg body weight of citral - one component that is found in lemongrass essential oil (c. 60-70% of essential oil when extracted). This dose is hugely concentrated compared to drinking an infusion from a tea, or using lemongrass in a meal where you do not then eat the grass itself. When you drink tea or a thai dish with lemongrass in it, you will get a maximum 40% of compounds pulled from the leaf.To put this into context, in each bag of our Morning Rescue tea, there is less than 1g of lemongrass. So, this means 0.7g in the highest case of citral, of which you extract 0.28g at most. If you weigh 55kg (8.6 stone), you'd need to therefore eat or drink 3.3g of citral per day to be similar to the mice study. This is 12 cups of tea a day for a sustained period. And obviously, if you weigh more than 8 and a half stone, this increases more, but 12 cups is a good guideline.
Now, the NHS advises that no one should drink more than 3 cups of any herbal tea a day. And we follow this guidance. As such, the tea is nowhere near being at the same level of the research.
Each of our packs has simple instructions on it, but essentially you should use 1 tea bag per person, and freshly boiled water for all except Head Start. This tea works best with 80-degree water (let your kettle sit for 5 minutes with the lid open after boiling). Brew for 3-5 minutes depending on how strong you like it.

Use 1 bag per 300ml of water (this is the average size of a water glass) Add freshly boiled water, as if you were making a normal cuppa. Place the glass, with the tea bag still in, in your fridge to cool. Enjoy once cool - add lots of ice and fruit if you're feeling fancy.